Darin Chittsawangdee
Darin Chittsawangdee came to Singapore to take up an SIM diploma, and subsequently progressed to do her business management degree with the University of Birmingham at SIM. An active student in school, Darin picked up valuable soft skills when she was in the student council. Now, she is back in Thailand working as a Senior Analyst in Accenture.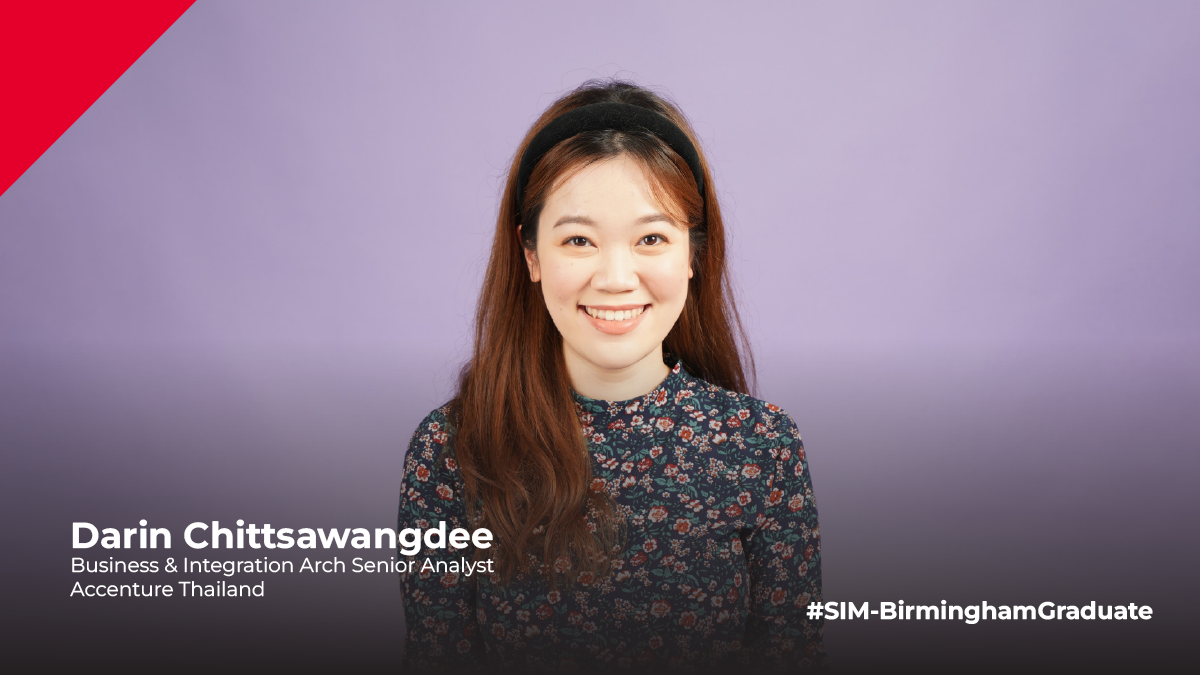 Briefly share your pathway after graduating from SIM-University of Birmingham.
I started my studies in 2018 and graduated with a bachelor's degree in Business Management with Industrial Placement in 2020. After my last examination, I moved back to Bangkok, Thailand to continue my internship as part of the degree requirements. Since then, I have been living and working happily in Bangkok.
Can you tell us about your current job and what you do on a daily basis?
Currently, I am working as a Senior Analyst in Accenture Thailand. I specialised in business analysis, finding technology solutions to solve business pain points.
Since I work on projects, my tasks look different every day depending on the project phase. One day I can be in a meeting with the head of IT to help design their system. Another day I can be working with developers to solve bugs reported by clients. To put it simply, I am solving technology problems for clients on a daily basis.
What was the main challenge you faced at work?
One of my colleagues said to me that Accenture does not teach you how to swim but rather throw you into the ocean and see how you survive. To elaborate on that, most of the time they would provide a list of what you need to deliver but do not tell you how to achieve it.
I used to be frustrated about it because it was hard to solve each problem or achieve each deliverable on my own. It is quite different from school where lecturers teach you "How to" and you can follow their guidance step-by-step. However, I learnt to be resourceful. Taking baby steps and asking colleagues for feedback. Looking back now, I am very proud of myself that I have grown so much from where I first started.
Can you provide us with 1 to 2 success stories in your current job where you had to overcome a specific challenge?
When I joined Accenture as an analyst, I was assigned to a team of three with a manager and a senior analyst. After four weeks, the senior analyst resigned, and after six weeks, the manager took four months medical leave. It was just me and being a newbie, I had many questions. At that time, I felt shocked and even cried. Since other teams still needed to get their work done, I was pretty much on my own. I needed to keep things moving even though the workload was huge for my position. I think I hit rock bottom in my career before I even completed my probation period. Eventually I got a new manager who helped me put things back to the way it was supposed to be. After that incident, I continuously made progress and was able to be promoted within my first six months at Accenture. It was a rough period but totally worth it.
How have your experiences as an SIM student shaped you?
Throughout my time studying in SIM, I made many fun memories with my friends through group projects and even in an 8am morning class. I particularly enjoyed being part of the University of Birmingham student council.
I was the head of marketing in 2019 and we made a tremendous change on how we present the student council to the students (you might want to check out our Instagram @uobsc). And I would say it was quite a bit of a ride, many ups and downs which have taught me many life lessons. Managing a group of eight, being flexible around other departments, managing my own expectations towards team members. I developed many of my soft skills during this time.
Posted online 20 Jul 2022.
Learn more about the
programmes
offered by
University of Birmingham
at SIM today.