Daisy
With dreams of attaining a reputable business degree, Daisy left Myanmar for Singapore as she believed that it would give her a better opportunity to achieve her goals. Amid homesickness and a lack of self-motivation, Daisy stood strong in the face of adversity to chase her dreams.
Forging Ahead with Resilience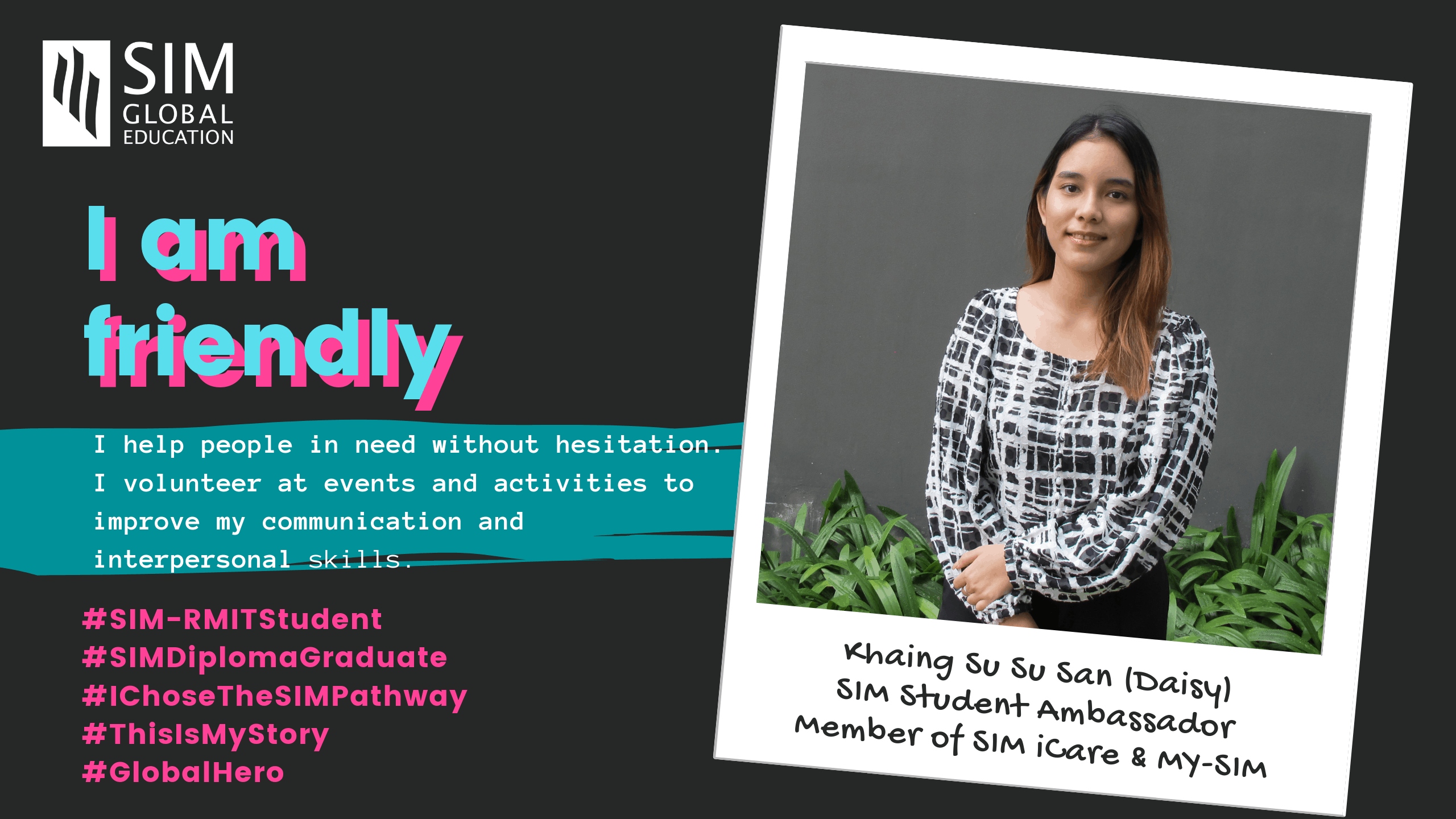 Fill in the blank with an adjective that describes yourself best: I am friendly
Please do elaborate on why you chose the adjective above.
I help people in need without hesitation. For instance, I help the elderly cross the road or carry things when they need help. I also try as much as I can to help my friends in their studies.
What made you choose to come to Singapore and take up the Diploma in Management Studies programme?
Singapore is known as a business hub and is among the top countries in the world when it comes to education mobility. As I really wanted to attain a reputable business degree and learn about diverse cultures, my parents and I felt that the best place to study in was Singapore as it was also close to my home country.
I took up the SIM Diploma in Management Studies as it provides many pathways to reputable partner universities at SIM that offer the business major that I want.
Did you face any challenges adapting to your new environment in Singapore?
Yes, I did. I faced challenges such as a language barrier and coping with my studies. As English isn't my first language, I had difficulty understanding the pronunciations of my lecturers and other students. But with time I was able to adapt to this. Another challenge that I faced was keeping pace with my studies. I found it hard to keep up with classes and this affected my self-motivation. However, by reading up on my notes a few hours before and after classes and studying hard every week, I was able to better cope with my studies.
How did you overcome these challenges?
One key step to overcoming these challenges was taking part in co-curricular activities. For starters, I joined the SIM Myanmar Community (MY-SIM) for Burmese students. Through this Club, I was able to meet other Burmese students who shared tips with me on student life in SIM. I began interacting more with them and we also helped each other out in our studies. Through the Club, I grew to be a more confident individual and was able to open up and talk to other students outside the Club. This allowed me to adapt to the language and culture in Singapore.
Are you involved in any extra co-curricular activities? What are they and what do you enjoy most about them?
My positive experience at MY-SIM inspired me to be more actively involved in other aspects of student life in SIM. I am currently a Student Ambassador for SIM and CPA Australia which I got to know through SIM's Project Protégé. I am also a member of SIM iCare Club. I volunteer at events and activities such as campus tours, office duties, graduation events, education fairs and events on Burmese culture. From these activities, I realised that I was able to improve my communication and interpersonal skills. I also gained more knowledge from participating in these events and it has also been a good way for me to de-stress after a long day of studying.
How have you benefitted from an education in SIM?
My time in SIM has been crucial to my development. It has allowed me to gain a better perspective on life. I also learned the importance of self-discipline and balancing between my studies and recreational time. These skills have been instrumental in helping me progress and bringing me one step closer to fulfilling my dreams. I am now taking the Bachelor of Business (Economics and Finance) degree at SIM-RMIT University.
#IChoseTheSIMPathway #ThisIsMyStory #GlobalHero
Click here to learn more about the programmes awarded by RMIT University.
Posted online, 05 Sep 2019