Clarence Seow
Creating experiences, delighting people and making sustainable choices – these are what make Clarence Seow excited about his job. Initially working as a restaurant manager, Clarence decided to quit, go back to school and take a degree for greater career opportunities. A graduate of La Trobe University at SIM, Clarence landed a job at Farmz Asia upon graduation. He was promoted to an Assistant Manager role this year.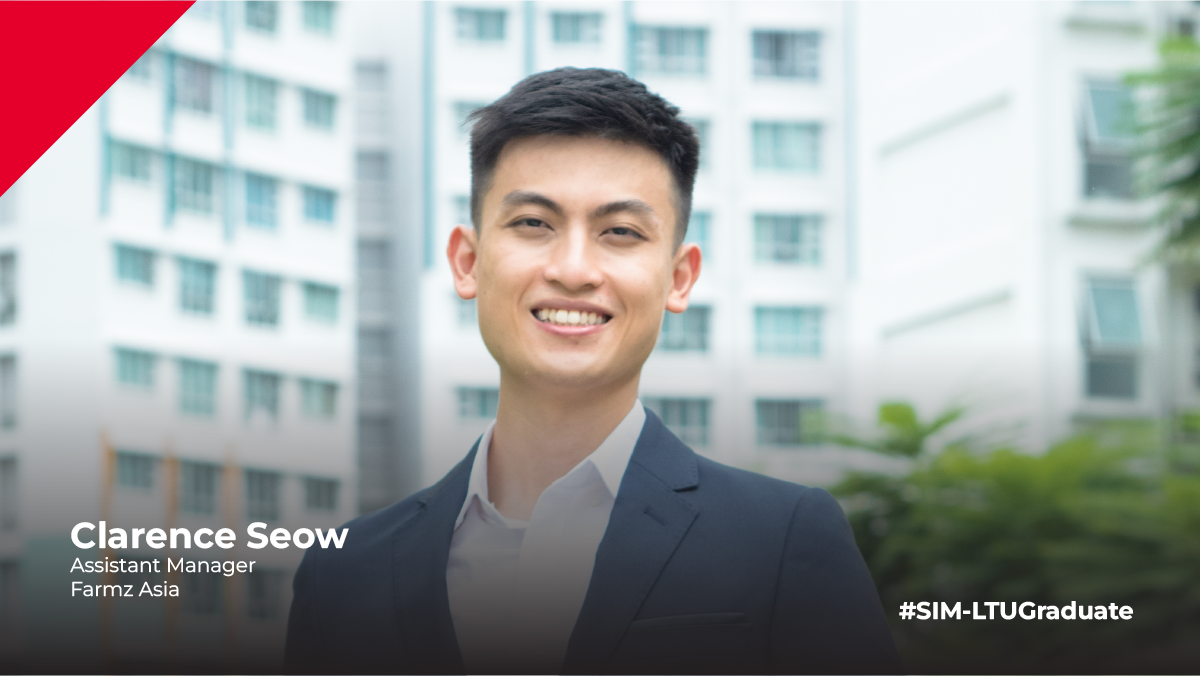 Briefly share with us about your current job.
I am currently a Client Care Assistant Manager at a food education firm where we help health-conscious people to learn how to prevent modern chronic illness, reverse ageing process and avoid life-threatening diseases through healthy food and proper nutrition. I currently lead a team of nutritionists, dieticians, and the client care team where we set goals and performance targets, identify gaps in processes, and develop strategies to enhance the experience of clients and increase client retention.
Can you tell us more about your job search and how did you clinch this job?
I first started looking for a job in my final year. I was really trying to figure out what I wanted in a career, and trying to find a balance between something that I was interested in and ensuring that I have a fulfilling career. During my second final semester, I took a module on sustainability that really was an eye-opener for me. I found out that sustainability exists in multiple dimensions. It was not just about recycling. It was then that I decided to focus on companies with sustainability as their core mission.
Farmz Asia was one of the companies I chanced upon in my search and after multiple interviews, I managed to clinch the role as a Client Care Executive. This was the perfect balance - servicing clients and knowing that I can make an impact on social lives.
What made you choose to take up a tourism and hospitality degree?
I was working as a restaurant manager after I finished my National Service. I realised that I wanted to pursue opportunities outside of the food and beverage industry. But having only experiences and qualifications in one field was a disadvantage. Thus, I decided to take up the bachelor of business in tourism and hospitality degree. I wanted to develop new professional interest beyond the food and beverage industry and be able to increase my network to get to know people with similar interests. More importantly, I had the financial ability to further my studies and was mentally ready to go back to being a student once again.
What challenges have you faced as a student in SIM and how were you able to overcome them?
I believe for me the most challenging thing to overcome was acclimatising to the academic life. Being away from school for a good number of years due to National Service and work, I have lost touch with education and learning. Unlike some of my course mates who came fresh out of polytechnic or other tertiary institutes, I felt like I had the disadvantage. I remember the first report took me a good one week to complete; it was definitely pressurising mentally as I was determined to do well.
It really took me half the semester just to acclimatise to the environment and settle in. I worked extra hard to ensure that I was able to keep up. But I think what really made the transition smooth was my peers and lecturers who were there to help whenever I required support.
What important skills have you picked up while studying here?
I think one of the essential skills that I have picked up would be to take ownership and be a more independent person. Although there were sufficient resources and learning materials provided for students, everyone is accountable for their own learning – there were no spoon-feeding. Every individual is required to be self-sustaining when it comes to digging out the necessary information and data for our assignments and projects. It taught me how to be in control of my learning and to be responsible for myself.
I have also become more meticulous in my work. Whenever we had to do report, there will be a set of guidelines on how the report is usually graded and how students will lose marks should they fail to follow or meet the standards. This came down to the simplest details such as the fonts, an additional spacing or perhaps a missing full stop. I have learnt to be extra cautious – all my assignments went through additional checks and conscientious examination before each submission. This has allowed me to be more meticulous in my work and pay extra attention to minor details to avoid careless mistakes in my work.
How have your experiences as an SIM student shaped you?
I feel that I have become more mature. Taking responsibility as project leader and leading orientations definitely played a part in my personal growth. I have gained the confidence to effectively communicate with my colleagues and conduct departmental presentations. Studying at SIM has also helped me expand my skill set into a new area and deepen my knowledge in my current field. More importantly, I have developed new learnings and acquired new interest through the modules, which helped me to pursue a path that I find fulfilling. Having lecturers and schoolmates from different fields and sectors has also helped me obtain new insights, expand my network and provide me with a reality check. Overall, I feel that SIM GE has helped me in terms of improving my creativity, critical thinking skill and personal growth.
Posted online 20 Oct 2022.
Learn more about the
programmes
offered by
La Trobe University
at SIM today.