Annabelle Ng
Whether it's a seminar or a convention, Annabelle Ng, SIM-La Trobe Events Management alumna, believes events should not only be unique and unforgettable, but they should be meaningful and purposeful as well. As an events executive and former member of the SIM Dragon Boat team, she exhibits tenacity in turning her ideas into great experiences for the masses.
Turning Ideas Into Great Experiences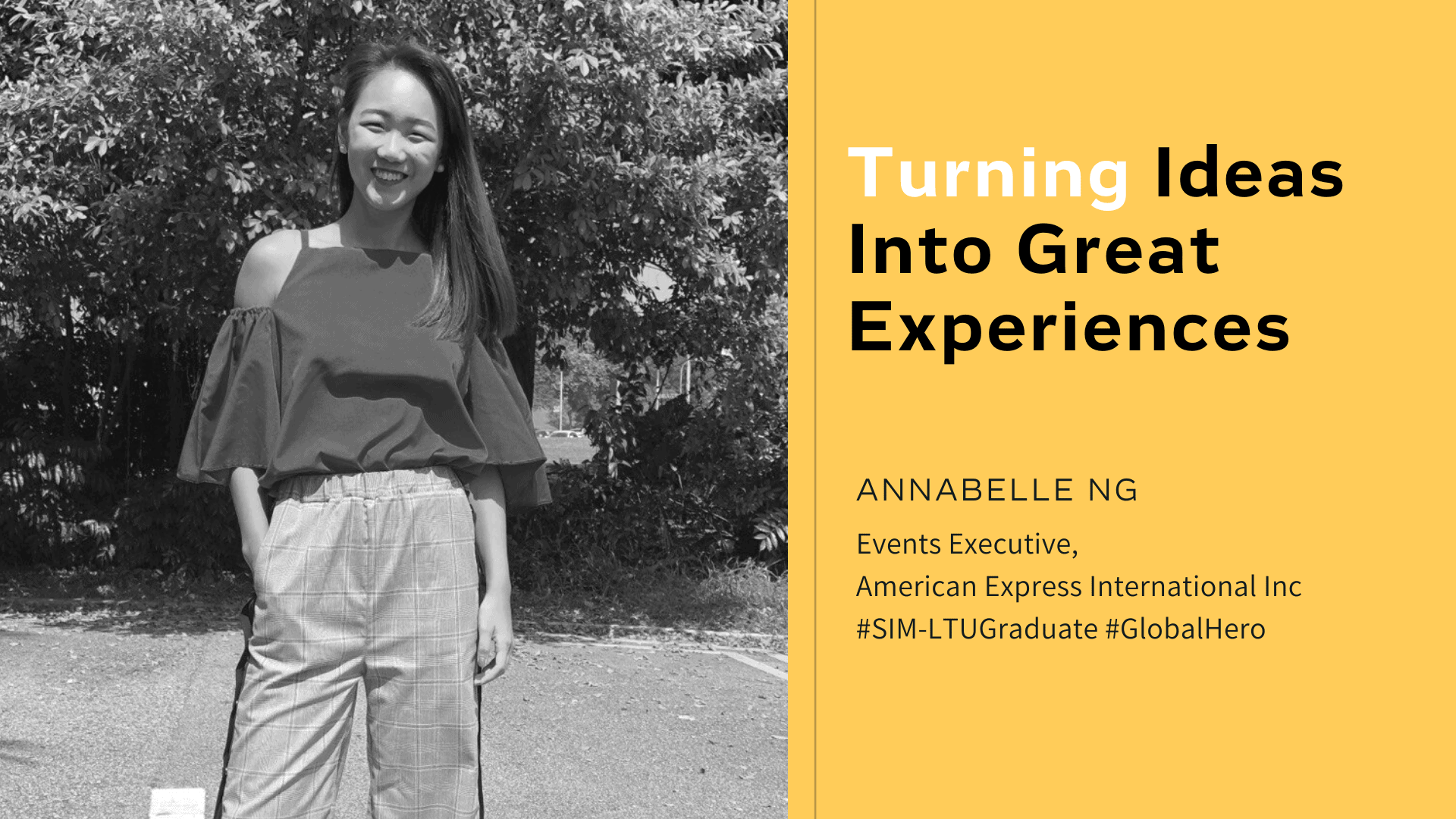 Why did you choose to pursue the Event Management programme with SIM-La Trobe University?
When I was younger, I found my cousin's job to be interesting! Having heard her event management experience, I started to develop a keen interest in it and wanted to pursue it further.
With La Trobe being one of the few universities to offer this specialisation in Singapore via SIM, it naturally became one of my top considerations.

What do you enjoy about event management?
Most of the time, events are organised to provide an unforgettable experience to the masses. It is even more remarkable that no two events are ever the same.
It is also a joy to see your guests leaving the event happy. This is indeed one of the best measures of success for every event planner.

How did you land the events executive role with American Express International Inc?
Seven hours prior to the job interview, we were tasked to prepare a wedding event concept based on requirements by an actual client. With my past experience in an events agency, I was able to understand the key factors that clients look out for in a proposal. With these, I could produce a notable presentation.
Furthermore, the presentations in school have helped to hone my confidence and presentation skills during the interview.

How has the programme laid the foundation for your role?
I've gained a deeper understanding on the purpose of events. With the knowledge taught by the lecturers, I now look at events as more than just an avenue for others to create memories. Events can be beneficial and are also a way to complement marketing strategies or even political objectives. This has enabled me to come up with ideas that can better fulfil the objectives of our briefs.

You were also a part of the SIM Dragon Boat team – can you share briefly about your experience?
Being a part of the team was the highlight of my student life! Dragon Boat is not an easy sport but the camaraderie among the team kept me motivated. It's really an indescribable feeling when you get through tough trainings together; it leaves you satisfied and incredibly fulfilled.
I've also learned that as long as you're willing to put in the effort to work towards a goal, you can achieve the results that you would never expect from yourself. Today, whenever I face challenges at work in creating an extraordinary experience due to limited resources, I know that the final outcome can still be unbelievably stunning as long as we're willing to explore all possibilities.

Who is your hero and why?
My mum, of course. She's an amazing woman and a great role model. Each time she sets her sights on something, she gives her all and prides herself on it.
She isn't an athlete but has trained and taken part in half and full marathons. Seeing her complete each run makes me realise the capacity of her mental strength. It inspires me to have the same level of determination and to strive to be a better individual.
She's also an organised and detail-oriented woman. I try to exemplify these characteristics in all aspects of my life as well.

#SIM-LTUGraduate #GlobalHero
Click here to learn more about the programmes awarded by La Trobe University.
Posted online, 24 Jun 2020