Amie
A 19-year-old with big dreams – Amie decided to leave Vietnam and pursue the Monash University Foundation Year programme at SIM. With the support of people around her, she navigates her learning journey in the new normal with a refreshingly positive outlook.
Ask SIM #FutureMaker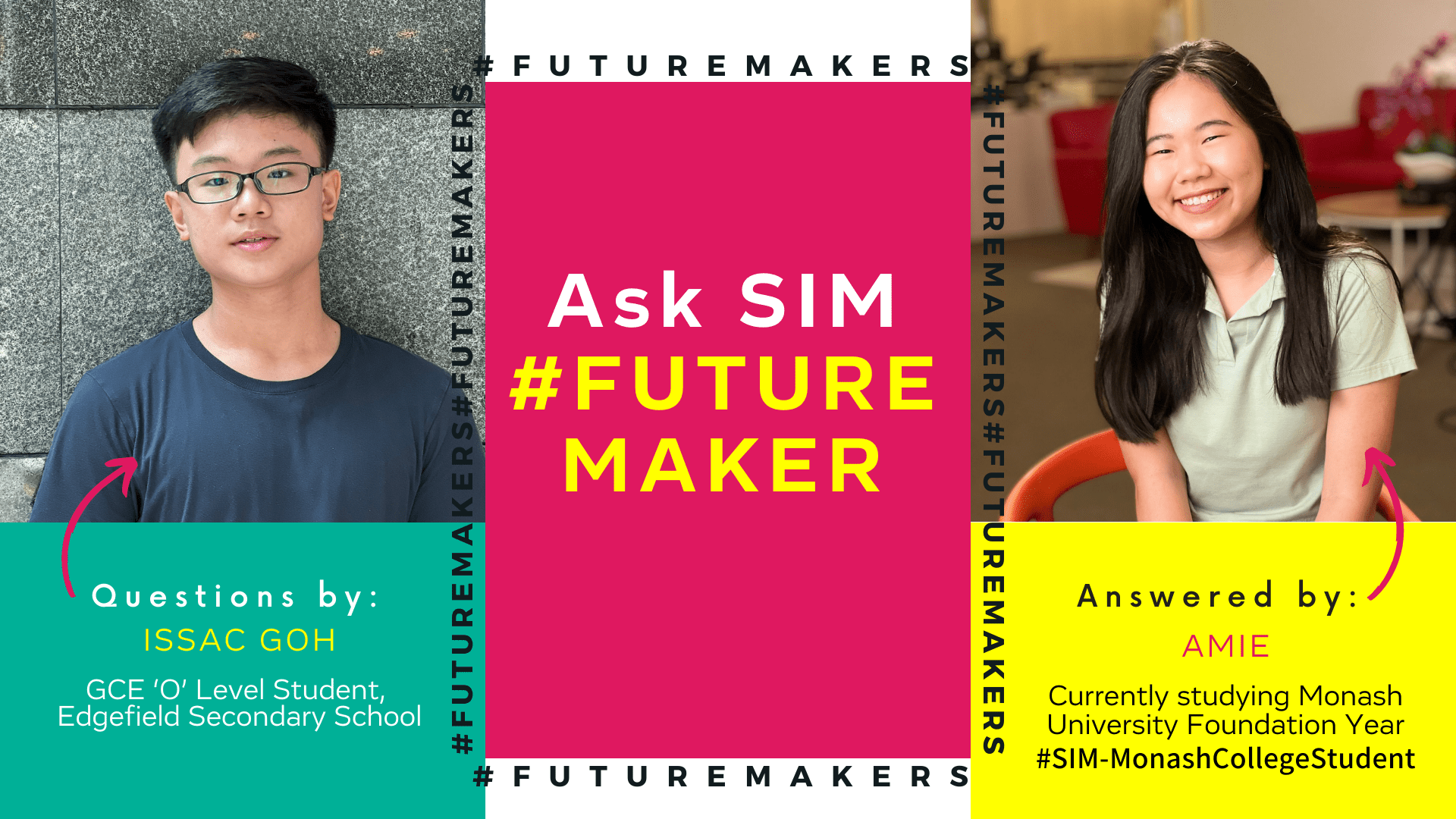 Here, Amie answers a series of questions posed by prospective learner; Issac Goh, who is taking his GCE 'O' Levels next year.
Issac (I): Why did you choose to study Monash University Foundation Year programme at SIM?
Amie (A): The programme offers me an opportunity to enter Monash University, a member of the Group of Eight Universities in Australia. The best part is that it only takes one year to progress to University instead of the usual two to three years.
I: What is one challenge you faced as a student learning in the new normal? How did you overcome that?
A: Many students find it hard to stay focused throughout the online lessons. A tip is to make a conscious effort to segregate your study space from possible distractions (phone, TV) so that you can focus better during online lessons.
I: How does the lecturers ensure that the online lessons remain engaging?
A: My lecturers will ask questions related to the topics and arrange relevant group activities for us. Learning together with my classmates makes lessons more interactive for me. On top of that, my lecturers will also share their personal work experiences and use case studies as examples. This is helpful for certain subjects like accounting and economics.
I: What are some ways to motivate yourself to study even when you do not feel like doing so?
A: I will try to change my study environment – like going to a café or library. If I have difficulties that I cannot overcome, I will reach out to SIM Student Care. It is a place where students can share their problems and receive helpful advice from counsellors.
I: How do you juggle your time between online classes and self-study while ensuring that you get sufficient rest?
Amie: At the start of the programme, I struggled to balance between studying and resting. What I found helpful was to list down my daily tasks. I usually split my to-do tasks into four categories of varying urgencies. Doing this helps me to refocus and to know what are the critical tasks I need to complete first.
I: How do you cope with stress?
A: Personally, crying is a helpful way for me to release my negative energies. After a good cry, I will think thoroughly about what I should do next and why I felt burned out. If need be, I will call my parents and friends to confide in them.
Sometimes my lecturers will also reach out to me to see if I am facing any issues. It is kind of them to do that, especially for international students like me.
Create your own future. Be a #FutureMaker.
Posted online 10 Dec 2021.
Learn more about the Monash University Foundation Year Programme offered by Monash College at SIM today.