Ali Yaakub
Ali Yaakub's initial goal may be to do sales in a bank upon graduation but the business management graduate from the University of Birmingham actually started his first job doing analytics in a bank. Taking a chance to try something new, Ali has since "found his groove" in the analytics field. Working in different financial and tech companies, and picking up skills along the way, Ali is now heading a team to build the business intelligence and analytics function in Tamara.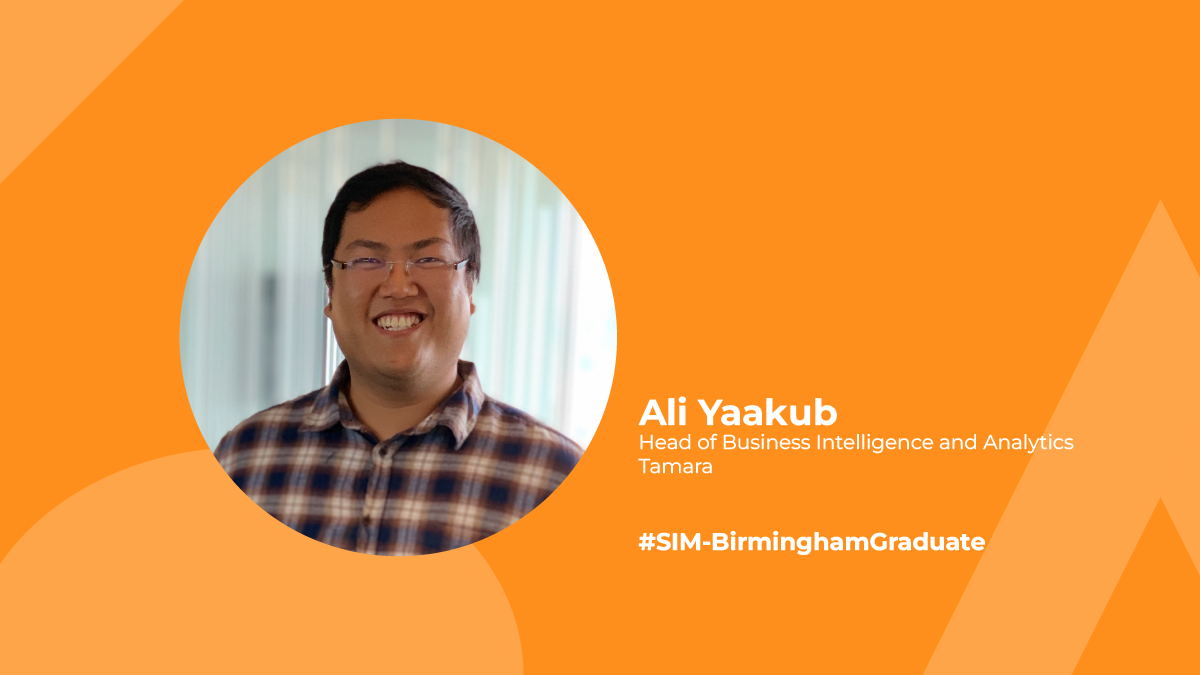 Can you share more about your current job and what you do on a daily basis?
I am the Head of Business Intelligence and Analytics at Tamara, the leading buy now pay later (BNPL) player in the Middle East. I manage a diverse team of data analysts, engineers, and scientists to deliver reporting and analytics across the organisation. My team supports almost all functions with their data needs including sales, operations, finance, risk, product, marketing, growth, and even HR.
My role has evolved along with the growth of the company. Only a year ago I was the first and only one in the team and I found myself doing most of the work on my own – setting up basic reporting, dashboards, and simple descriptive analytics. I saw the analytical needs of the organisation evolve and introduced new tools and methods to yield business insights for my colleagues. As we scaled and the team grew, I found myself taking on management tasks such as enhancing processes, building and coaching the team, and setting the team's analytical direction.
Is what you are doing currently something you envisioned doing back when you were taking your bachelor's degree in SIM?
Absolutely not – I did a business management degree with the goal of getting a job at a bank doing sales. My first job did see me work for a major US bank, but instead of doing sales, I was doing analytics. Back then, data analytics was not such a popular profession and companies were willing to hire fresh graduates who displayed some aptitude for the job and allow them to learn on the job. I decided to take a chance on this path in its early days, before all the hype about AI and machine learning took off.
It was by no means a walk in the park. Over the course of my career, I had to learn all the tools and programming languages on my own. First VBA, SAS, and SQL, then Python, then R. Along the way I picked up various data visualisation software including Tableau, Power BI, and Google Data Studio. I have to keep updated with the latest advances in data tech stacks and MarTech tools because understanding data ingestion and transformation is as important as the insights we hope to get out of them or the tools that we want to feed them into. It is like a game of football; people only see and remember the strikers who score the goal, but often overlook the defense and midfielders who set the strikers up for success. The entire analytics value chain is only as strong as its weakest link.
What was the main challenge you faced climbing up the career ladder?
Biggest challenge? It was how to accelerate my progression.
For the first three years of my career, I was grinding it out, doing every bit to make myself stand out in a huge organisation. I made sure to first excel at my own core responsibilities, then whenever possible volunteered or made myself useful for side projects that had high visibility in the bank. Through some very clever manoeuvring, I was able to secure myself two promotions in about three years.
However, the compensation package was still not ideal to me. I thought hard about this, and it was one of the valuable lessons in my career; I needed to be part of an organisation where my role was valued as a key driver of business. The problem was that I was learning about technology and data from a firm that was not at the cutting edge in these fields, and hence despite valuable contributions, we as a bank were still playing catch-up with the tech giants and tech unicorns of the day.
Approaching my three-year mark, a recruiter from Uber reached out regarding a job in marketplace efficiency, a role where I had to use data to make decisions on incentive payouts and pricing. It was a role that was at the confluence of business and data. It sounded challenging and I only had a vague idea about how to do some key elements of the job, but that was the right role to accelerate my learning not just in terms of business acumen, but also in terms of tech knowledge. This job was followed by a string of similar roles in companies at the cutting edge of data analytics. I soaked up that knowledge like a sponge.
Can you provide us with 1 to 2 success stories in your current job where you had to overcome a specific challenge?
A story I can share is about scaling the team from just a two-man operation when I first started working to our current team of 11 (and still hiring) in less than a year. One challenge I often grapple with is managing a team of data professionals who are geographically dispersed. I have people in six different cities and four different time zones. There are people in my team whom I have never met in person before. We need to be a responsive and high-functioning data team that is operating fully online rather than in person.
To work well together, we do have to implement a few loose but important rituals – stand-ups, sprint planning, knowledge sharing, and one-on-one sessions. I opt to have a single weekly stand-up instead of daily stand-ups because I feel like it maximises flow during the week. I do not really need my team to tell me what they are doing on a daily basis - I just need a roundup of past week progress and coming week priorities so that I can intervene on blockers or potential risks. To me, daily stand-ups are disruptive not just to my team but also to my own flow. They are often repetitive and add little value within the day.
Sprint planning is an important ritual because I can set priorities and direction, as well as review progress. We do this every two weeks to ensure we are on track with our deliverables.
Knowledge sharing is important because we do not get that face-time for us to interact and have chance conversations in the office about small challenges that bother us. We have knowledge sharing sessions every two weeks now. I am on a constant drive to ensure that in addition to knowledge sharing sessions, we all document our work sufficiently such that anyone could potentially pick up a teammate's work just from reading the documentation.
And last but certainly not least is one-on-one sessions with the team every week. I connect regularly with the team not just to ensure work moves along at a good pace, but also to contribute to their personal goals and development. It not only helps work flow smoothly, but also keeps the team motivated.
What do you enjoy most about your job?
I enjoy how dynamic, challenging, and fast paced it is. There is no shortage of interesting challenges or work to tackle, and in data we work across all teams in the company. Everyone's problems become our problems too and the learning and exposure on that is incredible. The company has also been growing at an incredible rate; we are the biggest player in the region despite being the latest entrant. My colleagues are some of the most talented in their respective fields, and hail from a plethora of different countries and professional backgrounds. I love this job!
What has been your most memorable experience of being an SIM student?
Definitely CCAs – I started the SIM Debate Club, back then called SIM Discourse. I guess you could say it was my own little pet project in school, and it was certainly quite challenging. Most other CCAs had an obvious 'fun' aspect to it – be it sports or special interest groups. Debate is rather different – getting people together and convincing them to do further study outside of what they learn in classes, then gruelling practice twice a week in low season, and almost daily in high competition season. It was like multiplying stress in your already stressful university life.
Starting the club was very challenging at first for this very reason. I tried to inject fun into the learning and I tried to attract people similar to how other CCAs tried to attract people, but with limited success. People were always enthusiastic at first, then as the going got tough and as the stress of competition season piled on top of the regular stress from university, there was a lot of attrition in the CCA.
This also presented some valuable lessons. First, I should not market the CCA as something fun because that will just attract the people who are there for a good time, but not a long time. I need to tell it like it is – long hours, late nights, potentially boring topics, lots of hard work and practice. I need to find people who are borderline masochistic in wanting to suffer first in classes, and then suffer again in CCA. Changing the marketing spin turned out to be a roaring success. Through this method of recruitment, I found a unique bunch of characters in SIM who were similarly interested to get their brains bent, stretched, and pulverized verbally after regular classes. And these people stuck around for competition season to the point where we could send three to four teams to local debate tournaments at a time.
Second, I also learnt that aside from fun, people were motivated by incentives and benefits. Being a CCA, we of course cannot afford to pay anyone money, but we could provide opportunities for learning and opportunities for travel. I needed to market the success stories from our CCA – people who went through debate and ended up doing well for themselves in their career, despite how unrelated it may seem. The folks in my CCA who ended up in the Big Four audit firms, or the major banks or tech firms. I also needed to market the fact that international debate tournaments take place all over the world, and that if we performed well enough locally, we would be able to get partial or even full funding to travel overseas for debate tournaments. My juniors in debate would go on to travel to Greece and the US for tournaments, though unfortunately for me, the furthest I got to travel by the time I graduated was Malaysia. I like to think that it was my generation of debaters and me who did well enough that SIM was willing to sponsor the later generations when the opportunities came up!
Posted online 20 Jul 2022.
Learn more about the
programmes
offered by
University of Birmingham
at SIM today.