Aeindanilar Aung
With over a decade of experience in the tech industry, Aeindanilar Aung (Ada) decided to build her IT knowledge and expertise with the WMG, University of Warwick at SIM. The leap of faith has helped her gain valuable insights into the different areas of Cybersecurity.
Ask SIM #FutureMaker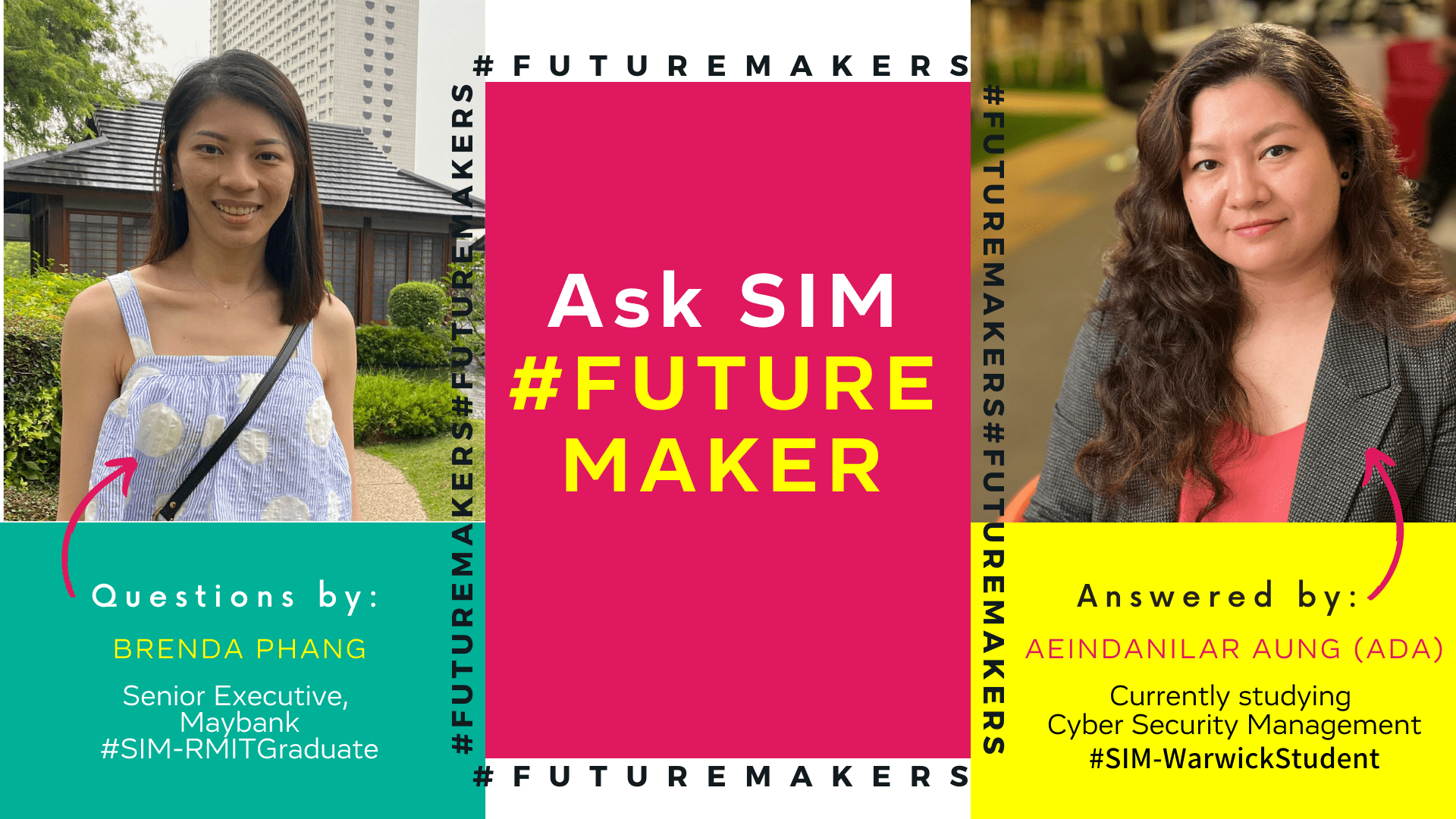 Here, Ada answers a series of questions posed by prospective learner – Brenda Phang, a working adult contemplating further studies.
Brenda (B): Part of my role at work involves ensuring business processes are secure, and I have been thinking about taking a relevant IT course. What made you decide to pursue a Master's degree in Cyber Security Management?
Ada (A): Year on year, the global digital transformation is evolving rapidly. Along with this transformation, Cyber Security has become more crucial.
I developed a growing interest in Cyber Security, seeing how it plays a huge role in software development where I specialise in at work. Like yourself, I started to see the value of upskilling in the relevant domain – so I decided to go for it.
B: Why did you choose to study with the WMG, University of Warwick at SIM?
A: I was enticed by the course structure – it is a unique blend of academic research and practical learning. The content of each module is up-to-date and accurately reflects modern-day issues that businesses and industries are facing.
B: What are the key challenges you faced juggling work and school?
A: The real struggle is definitely with time management. I had to learn to juggle personal time and school on top of my full-time work schedule. Time management is very important here.
B: What is your advice for working adults like me who wish to pursue further studies?
A: It is not an easy task to study part-time on top of a day job. However, I recommend taking the leap of faith to hone your interest in any area that you would like to improve on. Upskilling is the most efficient way to grasp something new in a short timeframe.
Thankfully, the classes are a mixture of discussions, group work, presentations and post-module assignments – which are designed to help adult learners like myself, understand the various topics efficiently.


B: Since the pandemic, many classes have moved online. How do you feel about that?
A: There are pros and cons – naturally, I miss the human touch and the interaction with fellow classmates. Although, on the bright side, I save a lot of (commute) time. I can take a break before classes since I am working from home as well!
Create your own future. Be a #FutureMaker.
Posted online 10 Dec 2021.
Learn more about the programmes offered by the WMG, University of Warwick at SIM today.