Pauline Ang
Despite a humble family background, Pauline Ang didn't let circumstances get in the way of fulfilling her dream of landing a job in the sports industry. With the assistance of a scholarship offered by SIM, Pauline, was able to offset some of her financial burden and focus on accomplishing her goals. Fast forward to the present and Pauline is thriving in her role as a Sports Partnership Officer.
Leaping Forward with Purpose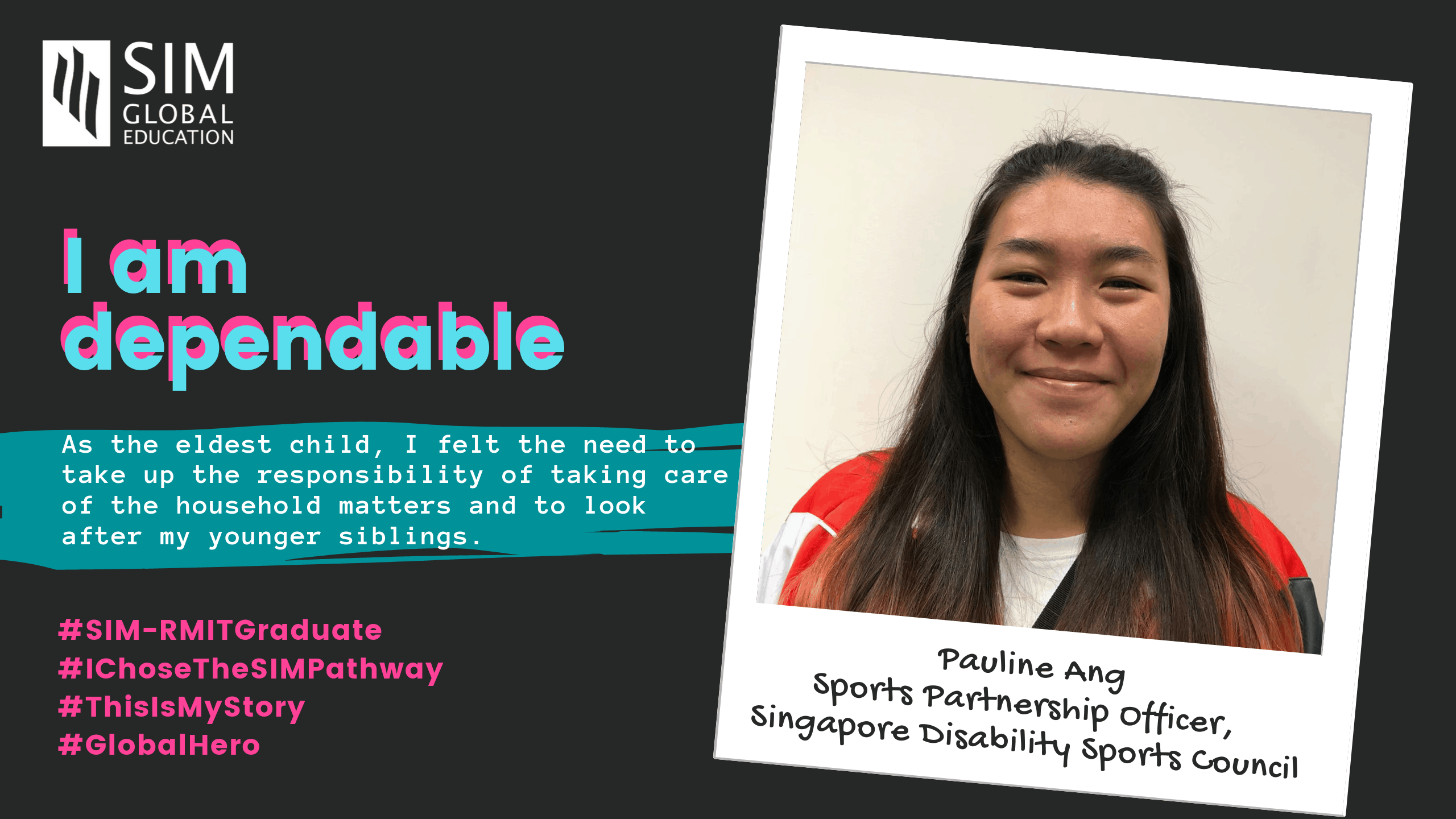 Fill in the blank with the adjective that describes yourself best: I am dependable
Please do elaborate on why you chose the adjective above.
I started supporting myself at a young age in order not to add to my parents' financial burden. As the eldest child, I felt the need to take up the responsibility of taking care of the household matters and to look after my younger siblings.

What made you decide to apply for a scholarship at SIM?
As I did not come from a well-to-do family, I didn't have the support from my family to finance my degree programme. After graduating with a diploma, I did some research on the options that were available for me and I chanced upon the scholarship programme at SIM.

Why did you choose to take up the Bachelor of Business (Management) programme at SIM-RMIT?
I wanted to pursue a degree that could equip me with a wide range of business specialisations. My goal back then was to increase my employment opportunities and to pursue a career of my choice after graduating.

You were involved in basketball both at a national and tertiary level. Tell us more about your involvement in the sport.
I trained almost five times a week while having to juggle school assignments. However, as the then basketball team captain of SIM, I remained focused on my goals and objectives. One of the proudest and most memorable moments for me was guiding the SIM team to win the Institute-Varsity-Polytechnic Games basketball competition. The feeling of bringing the trophy back to SIM was overwhelming.

How has the scholarship helped in your student journey?
Apart from lightening my financial burden, the scholarship has allowed me to focus on sports and my studies. Furthermore, SIM-RMIT's flexible curriculum allowed me to juggle my part-time job and personal life even with all the intense training sessions.

What got you interested in working at the Disability Sports Council?
I've always had people telling me that I have a big heart, so I decided to give my current role a shot. I'm glad I took this leap of faith. As a sports partnership officer, I am responsible for various tasks such as planning and executing overseas competitions and maintaining relationships with external partners. I work in a close-knitted team that plans and organises the various events.

How did the SIM-RMIT programme equip you for your current role?
The programme gave me insights and a fundamental idea as to how business structures are formed. It also provided me with a practical approach to handle tasks and allowed me to work with students from different backgrounds. This, in turn, sharpened my soft skills.

#IChoseTheSIMPathway #ThisIsMyStory #GlobalHero
Click here to learn more about the programmes awarded by RMIT University.
Posted online, 08 Oct 2019