Nang Moh Moh Lone
Nang Moh Moh Lone found her passion when she was studying for her economics and management degree at SIM-University of London. The passion to understand and support others becomes a focal point in her career choices. Back in Myanmar now, Nang Moh Moh Lone is the Head of People Experience Department in Yoma Bank.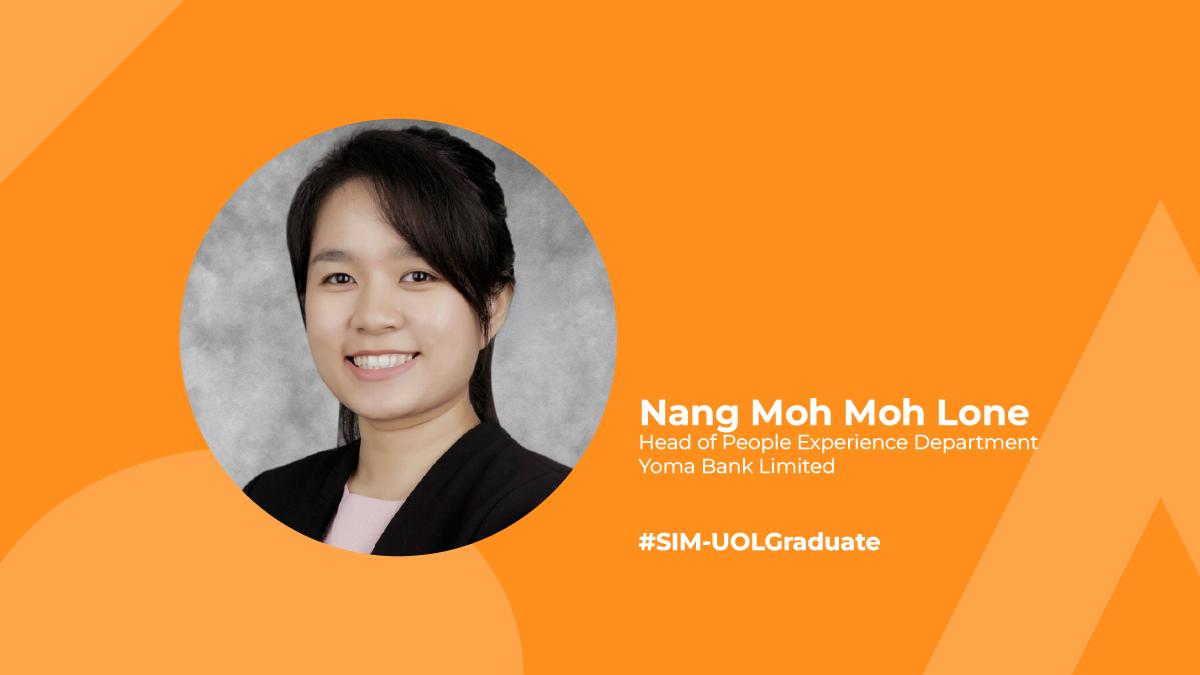 Can you share about your current job and what you do on a daily basis?
I am currently leading the People Experience (PX) Department at Yoma Bank. PX focuses on attracting talents and managing everyday experiences of each employee, which covers end-to-end employee journey from recruitment to compensation, benefits and people related administration.
From acquiring talents to providing seamless journey for them, I spend most of my days designing systems, strategising policies and guidelines and managing stakeholders.
Is what you are doing currently something you envisioned doing back when you were taking your bachelor's degree in SIM?
Yes, it is indeed. I was one of the founding members of the SIM Peer Mentor Programme during my Bachelor days when I realised my passion in creating mutual benefits through mentoring and coaching. That volunteering experience played a major role in making me who I am today.
Since then, I have always been energised to contribute to a wider society, to make positive impacts through understanding and managing people's needs and wants, which supports organisations in return.
My choice of career really reflects my personality as well as my then-vision of what kind of person I wanted to be in the future.
What was the main challenge you faced in your career and how did you overcome it?
The biggest challenge I faced is my age.
I was in my mid-20s when my resilience was tested, especially when it came to experience and leadership abilities. It was extremely challenging to gain stakeholders' trust. Regardless, I was able to overcome their doubts by continuously learning from research papers and management gurus, actively listening to others, communicating strategically and practising empathy to my stakeholders.
If I have to summarise it, I overcame the challenge by learning with empathy.
Can you provide us with 1 to 2 success stories in your current job where you had to overcome a specific challenge?
I 'inherited' a team with diverse members. During the first few months, I had to lead change management as well as develop the team.
It was an immense amount of stress to accomplish milestones with my team especially with COVID-19 and political turmoil. Going back to the workplace and taking the leadership role consumed my physical energy and mental health back then.
Nevertheless, I was able to develop a stronger team with higher commitment to serve our communities. My passion enabled me to overcome any kind of challenges in my career. Additionally, as a Human Resources professional, I could not allow my personal vulnerability to impact another individual or my organisation.
This passion or purpose of my life in wanting to create a better working environment has guided me along the way. It helped me stay in focus and bring out the best in my team and in myself. I give myself the best care to be physically healthy and mentally mindful.
At work, I did it by creating personal relationships with the team during these difficult times and by practising and spotlighting their biggest strengths. In this way, my team and I gained back our confidence and purpose.
What do you enjoy most about your job?
I enjoy learning about others. It helped me to reflect and improve myself so that I can find more effective ways to support others in return.
Posted online 20 Jul 2022.
Learn more about the
programmes
offered by
University of London
at SIM today.