Lesner Chua
From an agency ad-man, to medical and consumer aesthetics, to tech venture builder, to Q-commerce cloud groceries, to FinTech – this is how Lesner Chua sums up his career path on his LinkedIn profile. Learning and absorbing everything he can in every role, Lesner, who graduated with a business degree from RMIT University, is now working as a Growth Marketing Lead (APAC) for Revolut, a global FinTech unicorn.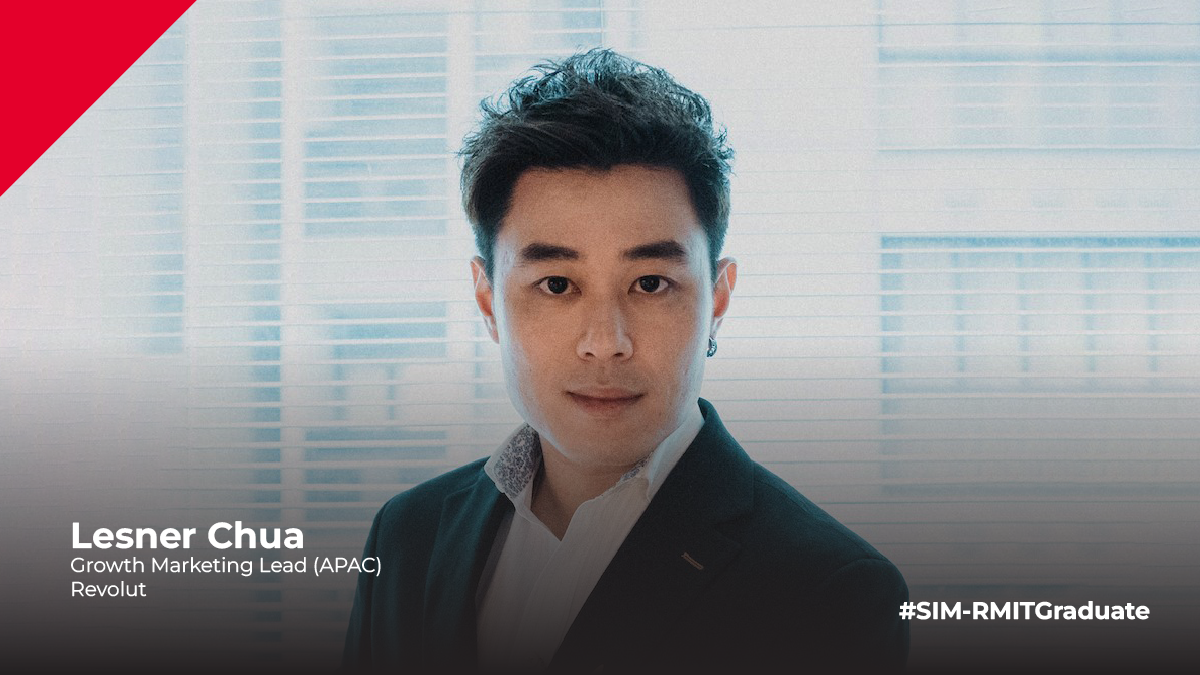 What did you do after graduating from SIM-RMIT University?
I was part of AIESEC in SIM during my university days. If you have not heard about AIESEC, it is one of the world's largest youth-run social enterprises that dedicates its activities toward inculcating students with both business skills as well as interpersonal soft skills. One of the highlights of the AIESEC programme is that you get to go to a country of your choice to either do a six-month overseas corporate internship with one of the AIESEC corporate partners, or dedicate three months to overseas volunteer work. Wanting to take a good break and really explore and immerse myself in different cultures overseas, I took up the volunteer track.
With that, I found myself on a plane to Joao Pessoa, Brazil. My role as an AIESEC volunteer was to do sharings with the Universities in Joao Pessoa on the topics of Entrepreneurship, Business and a topic of our choice. To which, I chose marine life as I am an avid diver, and a certified PADI Divemaster with a huge love for the ocean.
Three months went by really quickly. While it was a fairly long time away from home, it was not enough. So I connected with other AIESEC-ers from around the global network, and the next thing I knew, I ended exploring Dracula Castles in Brasov, Romania, all the way to jungle surviving in Pai, Thailand, as well as travelling the whole of Southeast Asia on a backpack. I returned to Singapore after seven months.
You started your own business previously. What inspired you to start your business?
Since I returned home jobless after my seven-month travels, I decided to try to offer freelance marketing services to small businesses like cafes. For the next six months, I recalled sitting at the Starbucks outlet at Clarke Quay every morning, treating it as my makeshift office, and also to get out of home so my parents would not know I was jobless.
During that time, I read a lot of business articles and entrepreneurs' stories and watched their documentaries to motivate myself and keep myself going. There was this interview on YouTube with a successful entrepreneur from Silicon Valley and he said this: "Basically, people see you as how you portray yourself to be". This sentence changed my whole perspective, and everything changed from there.
Instead of introducing myself as a freelancer, I started introducing myself as the founder of a marketing start-up. I pulled in one of my friends who had an event background, and basically "expanded" our service offerings in our pitch. With some luck, we managed to clinch a few clients. We also partnered with a leading social marketing firm in Singapore, and approach clients as a collective group with vast resources.
With lots of hard work and luck, I became a business owner.
What was the main challenge you faced building your business and what did you do to overcome it?
Growth was the biggest challenge. Not just in revenue, but the way we structured the operations across people management, operations, business development and so on. As we started to win contracts from government tenders, shopping malls, and international retail brands, we expanded from a two-man team to a seven-man team in just a couple of months.
Beyond the work that we do, people management was something that we did not foresee would be an issue. It was tough when real issues such as employee progression, pay raise etc. all kicked in, especially when your mind was all about growth and bringing in more revenue for the young company.
We did not have a perfect plan and we made tons of mistakes, but we ultimately relied on creating a culture that was very similar to that of a close-knitted project group in school (I later learnt that the term was called agile-teams). We did everything together, solved issues together with everyone, and treated every employee as if they were a part owner of the company. That said, the growth of the company also gave our young employees a good morale boost, as it was made possible with the good work that they had done.
As we grew, we of course sought help and advice from other seasoned entrepreneurs. It was almost impossible to do everything alone. I guess that worked for us as the agency continually saw hyper growth in its business, and we managed to pique the interest of a
Korean conglomerate that subsequently acquired us
You seem to have a rather unconventional career path, taking on different roles - a boss, an employee, a partner - throughout your career. Can you share more about the paths you took and how you view such experiences?
I cannot speak for all, but most entrepreneurs would strive to build something scalable. The agency business was a good business, but deep down, I wanted to create a faster and scalable business, e.g. a product-led business of sorts, that would generate revenue without the manual labour of pitching to clients, and being at the mercy of their budgets. But for that to happen, I needed experience, and to expand my knowledge.
An opportunity arose from a circumstance that I was in, and long story short, I "bit the bullet" and decided to leave the agency.
With a bit of luck and help, I experienced different industries and scopes of work, learning and absorbing everything I can. From helping another friend running a tech-development firm, to doing marketing for a venture capital accelerator, as well as taking on the reins as a CMO to help digitalise and grow a local skincare and aesthetics brand.
The opening then came for me to work in a unicorn tech firm – foodpanda (deliveryhero). They were launching a new quick commerce (Q-commerce) unit for groceries - pandamart, and the thought of being a disruptor in a new space sounded really awesome. I learnt a lot, and also achieved amazing success with foodpanda as we grew pandamart to become a serious player in the tech-grocery space.
Shortly after, I got headhunted into Revolut, a global FinTech unicorn that is ranked top 10 in the world.
This is definitely not the end and I am still learning. I have my side hustles, and I am looking to explore a new venture with networks I have made, in the near future, around the DeFi-Web3 space.
How has the programme that you studied in SIM benefitted you?
SIM-RMIT definitely sparked my interest in business and marketing, as I was in a non-business course when I was in Nanyang Polytechnic. The programme gave me a good introduction to the concepts on business, marketing, as well as finance and accounting. I took away the most doing case studies, participating in the entrepreneurship challenge that SIM organised in collaboration with its corporate partners, as well as joining the AIESEC in SIM, which gave me first-hand experience in dealing with corporates through the organisation of events such as student business conferences, raising funds through corporate sponsorship and partnerships.
Lecturers were amazing and helpful. I appreciated the fact that they held senior positions in their corporate life, and constantly shared real industry experiences with us (shout out to Ms Chin Choo and Mr Praba Nair).
It is never an isolated aspect of the school, but the holistic experience and environment that made it possible. Of course, it is important that you come in with an open mind, and the desire to make the best out of your university life. There is no bad school, only bad students. We cannot depend on other people or institutions.
Is what you are doing currently something you envisioned doing back when you were taking your bachelor's degree in SIM?
Definitely not. I had a rough idea of what industry I would like to be in, but never in my wildest dreams would I imagine that I would have had these experiences - running my own company, going into acquisition with one of the Korean marketing conglomerates, leaving the company that I painstakingly built up for four and a half years (since my freelancing days), launching pandamart in Singapore, and now, working for the world's top 10 largest FinTech unicorn.
In fact, there are many SIM graduates I know of (some being good friends), who are extremely successful in their careers, and some are running one of the most popular digital media companies in Singapore as well. So I guess SIM is doing something right!
Posted online 20 Jul 2022.
Learn more about the
programmes
offered by
RMIT University
at SIM today.