Gerald Tay
It may have been a family business, but Gerald Tay definitely worked his way up to be the Group CEO of TPS Group Alliance now. The SIM-University at Buffalo communication graduate is also the Group CEO for Capilion Group Alliance, and sits on the Board of Directors of two companies. A driven millennial who started working during his polytechnic days, Gerald also finds time to be involved in community service related activities.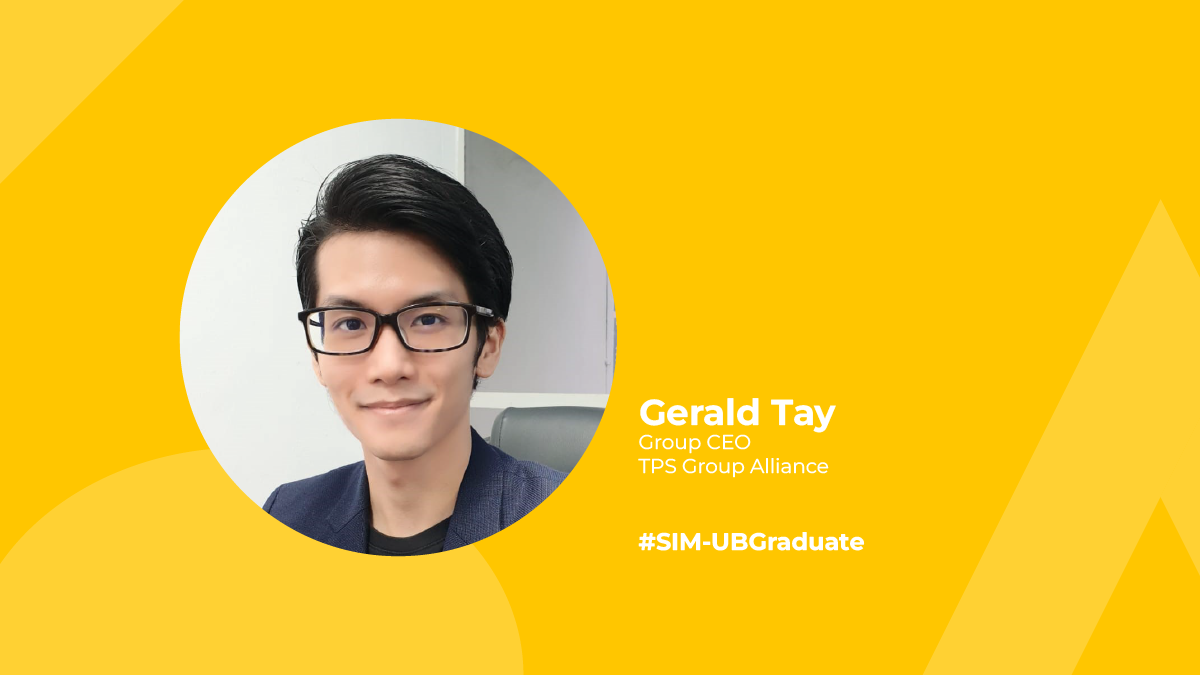 Briefly share with us your current job.
I have been learning to manage companies that span a wide range of services since 2005. Currently, I am the Group CEO of TPS Group Alliance. We provide professional services such as corporate & investment advisory, accounting & corporate services, real estate, recruitment services, family office services, migration services, technology services, agencies and projects.
I am also the Founder and Chief Executive at Money Maker, a business-matching platform for service providers, deals (mergers & acquisitions), physical commodities, investments, charity and philanthropy (pro bono). Additionally, I am the Group CEO for Capilion Group Alliance.
I also sit on the Board of Directors of two companies - a NASDAQ public listed company in the US as an independent Non-Executive Director, and an investment company that owns and manages childcare centres. Finally, I also volunteer my time and am currently a member of the International Y's Men Club of Singapore Alpha Chapter.
What were the main challenges you faced in your career?
Some of the businesses that I manage are family businesses, with the need to work with family members (including my parents) and to deal with many legacy issues. This took a lot of time and work to juggle and create smooth working processes between the lines of ownership, management and family. Also, a lot of work had to be done diving deep into not just the operational details of each company and industry, but also breaking down resistance that usually came with trying to evolve legacy issues into more efficient and effective ways of working.
Another ongoing challenge is that we cover a relatively wide range of services, so we always have to learn, and are learning new things every day, on the go and on the job, and have to be able to operate effectively and well in the given environments. Even up until today, after doing what I have been doing for 18 years, I am still learning new things every day.
Can you provide us with 1 to 2 success stories in your current job where you had to overcome a specific challenge?
During the COVID-19 pandemic, we had to, just as all businesses in Singapore, pivot overnight to different ways of working (i.e. remote working, etc.) due to lockdowns and uncertainties that came with the pandemic. There were numerous challenges that we had to face such as new communication channels both internally to colleagues and externally to suppliers and clients from all over the world.
Fortunately, we are generally always preparing for possible changes. So when we first got wind of a possible pandemic spreading across the world in early February, my IT team, management, and I were already discussing worst case scenario possibilities and had already moved towards building a sustainable solution for our businesses. So when the lockdown happened in early April, we were ready to immediately implement new ways of working with all our stakeholders with regard to our business operations such that the operations and business were not so severely affected by the pandemic.
Another challenge was the Panama Papers leaks in 2016, which caused a relatively huge crisis for us as one of our businesses was directly affected by this. We had an extremely large crisis management problem on our hands - ranging from angry and uncertain clients, extremely worried colleagues who thought that the business was done for, journalists camping outside our office building trying to jump my colleagues for comments about the situation, and even an investigation done on some of our companies by government agencies.
We had to make many swift and decisive actions that had a lot at stake. Through much detailed communication, openness and reassurance to colleagues and clients, we were able to dampen the effects of the crisis on our business and clear our names with the government agencies. This was a trial by fire – a crisis management lesson that was really difficult for us – but fortunately, we survived till today.
Is what you are doing currently something you envisioned doing back when you were taking your Bachelor's degree in SIM?
I started work back in 2005 and only started my Bachelor's in 2009. Funnily enough, I am actually not the studious type of person. The story behind me actually pursuing a Bachelor's in SIM was due to the fact that my parents forced me to at least have "something to fall back on"/"a useful certificate".
Has the UB degree benefitted you then?
I graduated from the class of 2012 with a Magna Cum Laude in Communication. I feel that the programme benefitted me quite a lot with regard to opening up my perspectives and understanding towards communication. I realised that communication is very important not just generally in life but in business as well. Interpersonal communication with your colleagues, family members in the family businesses, suppliers, clients are actually very multi-faceted, and with a good grasp and understanding of the nuances, it can really go a long way in building strong, lasting and healthy relationships.
Choosing the right channels and messaging for effective and efficient communication, especially for crisis management are very important, and can sometimes make or break a situation, relationship or even an entire business. Having a firm foundation on the concepts, helps lead to more rapid and timely deployment and applications to real world situations as demonstrated by the stories that I have shared.
Posted online 20 Jul 2022.
Learn more about the
programmes
offered by
University At Buffalo
at SIM today.