Edwin Sugiaurto
Unlike most peers, Edwin Sugiaurto knew what he wanted to study. The Indonesian took up a business degree with SIM-University of London as a first step in his plans to build up a food and beverage (F&B) business. His interest stemmed from a young age when he helped his parents with their food outlet. Now, he manages the Primarasa Restaurants as a second-generation owner.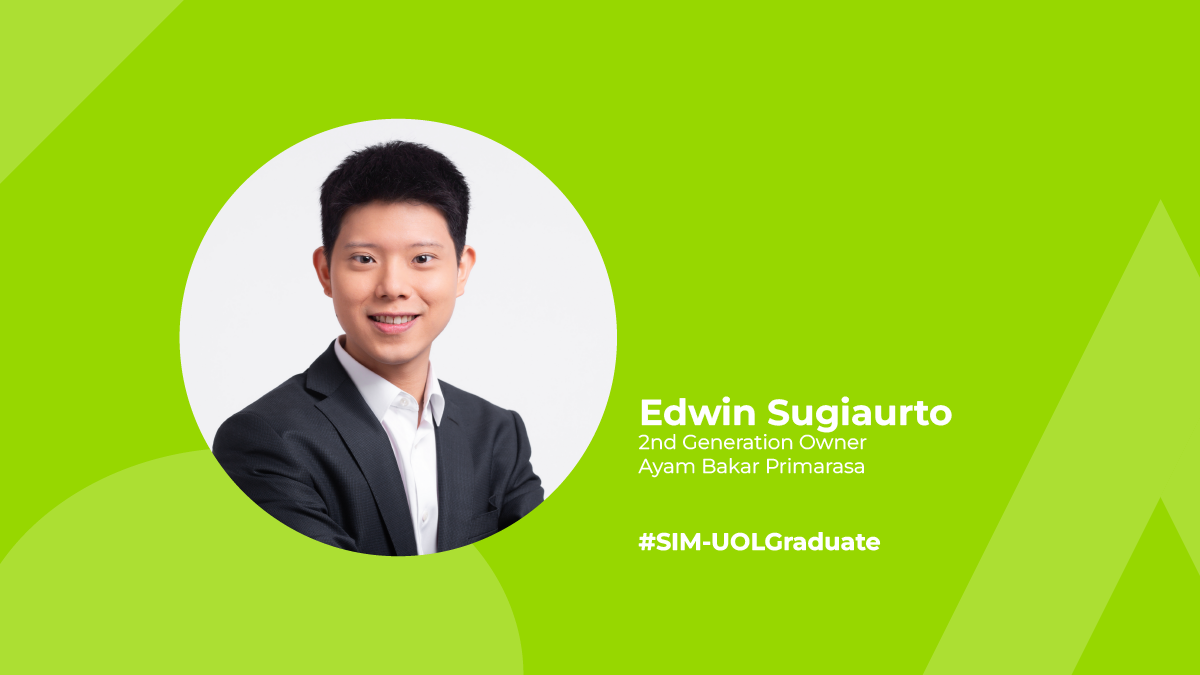 Briefly share your pathway after graduating from SIM-University of London.
Upon my graduation in 2011, I pursued my master's degree and subsequently joined Hyatt International. After several work stints in Indonesia, Singapore, and Hong Kong, I decided to quit and focus on my own hospitality and culinary journey. As of today, I manage a group of 12 restaurants across four cities in Indonesia with a total seat capacity of 3,500.
What inspired you to start your business?
I have always loved the hospitality and culinary industry. My parents operated a food court at the University of Surabaya, and I was always eager to help since I was five years old. During primary school, I did my homework while manning the cashier at the same time!
Is what you are doing currently something you envisioned doing back when you were taking your bachelor's degree in SIM?
Absolutely. I always knew that I needed to learn good business and analytical skills to successfully start an F&B venture someday. SIM provides me with all those skills, plus solid economic theories, vibrant study environment, and excellent alumni support.
We reckon that the path you took to get where you are today came with risks. What made you want to take a leap of faith?
I could find a nice nine-to-five job in Singapore, or continue my career with the Hyatt Group. Both paths are safer in terms of risk and dedication. However, I am aware that there are many unemployed people in my home country. With my current business, I am able to create multiple jobs and offer them to people in need.
What was the main challenge you faced and what did you do to overcome it?
It is important for me to get blessings from my parents before I do something major in my life. However, they are conservative, and prefer old-school ways of doing things.
I need to get creative to convince them and obtain their approval. Rather than being too aggressive, I swayed my parents by leaving hints so that they became aware of the importance of the actions that I was about to take.
For example, when I allocated huge sums of money to renovate the restaurants and rejuvenate the brands, things got sour quickly. My parents thought it was a waste of money because the brands were still running well. To convince my parents, I brought them to all the nice restaurants in Singapore to highlight that delicious eateries also require proper interior design. After the renovation, our restaurants were even visited by the President of Indonesia – an honour that we received every year since 2016.
Can you provide us with one success story in your current job where you had to overcome a specific challenge?
During our country's lockdown in April 2020, our revenues dropped 70 per cent because we focused heavily on dine-in business. We had to pivot to online deliveries, take-outs, and catering. The commissions charged by online food delivery platforms were high, but we negotiated hard by agreeing to a certain sales target. We also revamped our packaging to be more modern and eco-friendly. After a year, our revenues are now back to pre-pandemic level.
You were helping the community during the COVID-19 period. Can you share more with us?
We are very fortunate to have adequate emergency funds for difficult times. During the COVID-19 lockdowns, we used these funds to provide complimentary meals to frontline workers and people in need on a regular basis. Although it was difficult, we also opted not to retrench our staff. It brought a smile to my face when I knew that my employees were still able to provide for their children during those very difficult times.
Posted online 20 Jul 2022.
Learn more about the
programmes
offered by
University of London
at SIM today.