Amanda Yeo
Leaving Malaysia to further her studies with the University of London in SIM enabled Amanda Yeo to gain greater global exposure, which include taking up a summer school programme in the UK and an overseas internship in Taiwan. It also triggered her interest in global and socio-economic issues where she first volunteered as a blog contributor, and became the blog editor for the United Nations Youth Associations Network (UNYANET). Her passion continues in her present job as a Research Analyst focusing on socio-economic issues in Malaysia.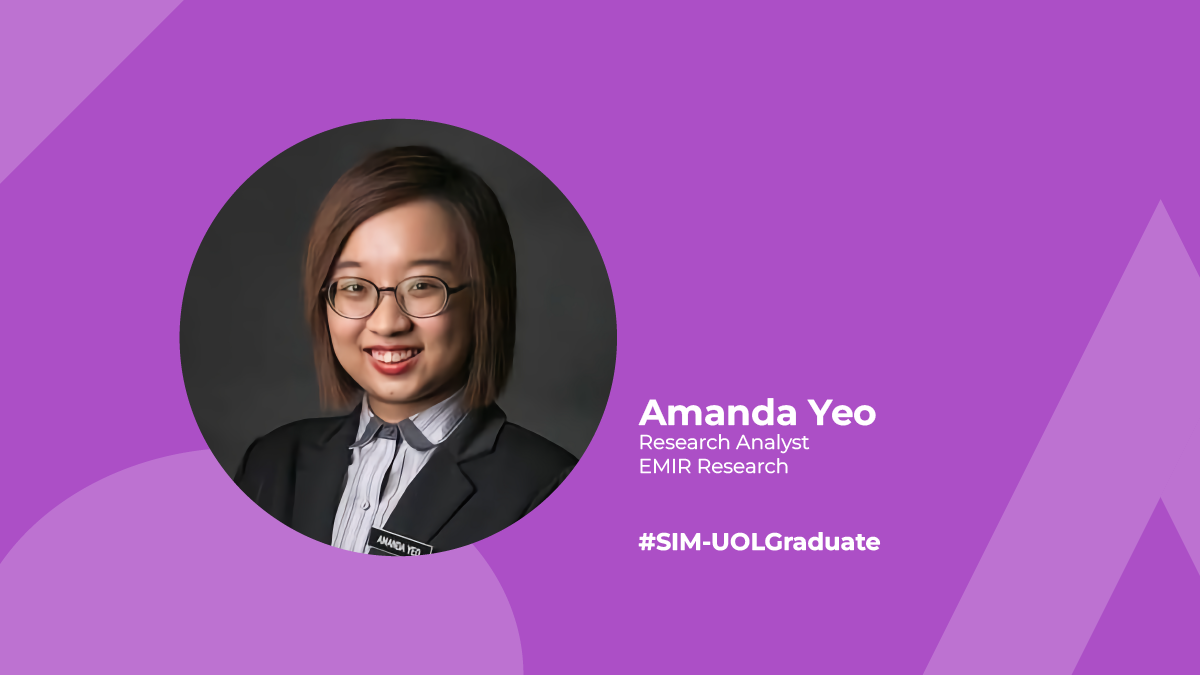 Can you share what you do on a daily basis?
Currently, I am working as a Research Analyst at EMIR Research, one of the prominent think tanks in the city centre of Kuala Lumpur, Malaysia. I have to conduct public policy research and write articles related to sustainability, infrastructure and East Malaysian issues on a daily basis. At the same time, I will have to respond to inquiries from the media. Local media such as Astro, Malay Mail and other media will invite me to give my comments on the current affairs in Malaysia through written responses or TV interviews.
Is what you are doing currently something you envisioned doing back when you were taking your economics and finance degree in SIM?
It is quite aligned to what I envisioned when studying for my bachelor's degree in SIM. However, instead of working in the international organisations such as the United Nations (UN), I decided to focus purely on the public policy field that will help my beloved country, Malaysia, to create better policies for the citizens regardless of socio-economic status and ethnicity.
What do you find most meaningful about your job?
It is especially meaningful when my articles received good media tractions. In addition, when my family, friends and colleagues acknowledge my writings and interviews, I feel a sense of accomplishment and am always motivated to conduct in-depth public policy research.
I also love to observe the ground sentiment through networking with like-minded peers and travelling across Malaysian states (including my home state, Sabah) outside of working hours. By understanding the ground sentiment, I could relate their feelings through my article writings. People who read my articles or watch my interviews appreciate my contributions in the public policy scene. My family also started to understand why I wanted to return to Malaysia for good at the end of 2017.
How have your experiences as an SIM student shaped you?
I am really thankful that I had chosen SIM to complete my bachelor's degree. There were many co-curricular activities and exchange programmes to choose from. The conducive learning environment in SIM enables me to find my passion in sustainable development, which leads me to who I am today.
What impact do you hope to have on society as an individual?
I have the aspiration to empower more rural Sabahans in self-sustaining their economic livelihoods through skills and income development, and to achieve this ultimate vision, I hope to develop a PhD research proposal relating to rural development in Sabah, Malaysia over the next three to four years.
I wish to influence more policymakers ranging from government, private sector and academia to create change together, enabling more rural Sabahans to improve their living standards throughout my future PhD journey.
Posted online 20 Jul 2022.
Learn more about the
programmes
offered by
University of London
at SIM today.