SIM partners UOB to establish corporate university for its Group-wide leadership and capability deve
SIM partners UOB to establish corporate university for its Group-wide leadership and capability development
This strategic partnership was ratified through the signing of a Memorandum of Understanding (MOU) on 26 October 2022 by Professor Wei Kwok Kee, Provost, SIM, and Mr Dean Tong, Head, Group Human Resources, UOB. Witnessed by Mr Heng Swee Keat, Deputy Prime Minister and Coordinating Minister for Economic Policies, and Mr Wee Ee Cheong, UOB Deputy Chairman and Chief Executive Officer, the signing ceremony took place at UOB's Better U Festival held at the UOB Plaza Atrium.
Under the MOU, SIM will identify and develop leadership learning solutions and programmes with UOB that will complement and align with the Bank's strategic growth directions and culture. These include learning experiences that will be delivered under UOB's 'Better U' talent development initiative, as well as courses on leadership, general business and soft skills. UOB will also facilitate the offering of internships and employment opportunities for SIM students and graduates within the UOB Group.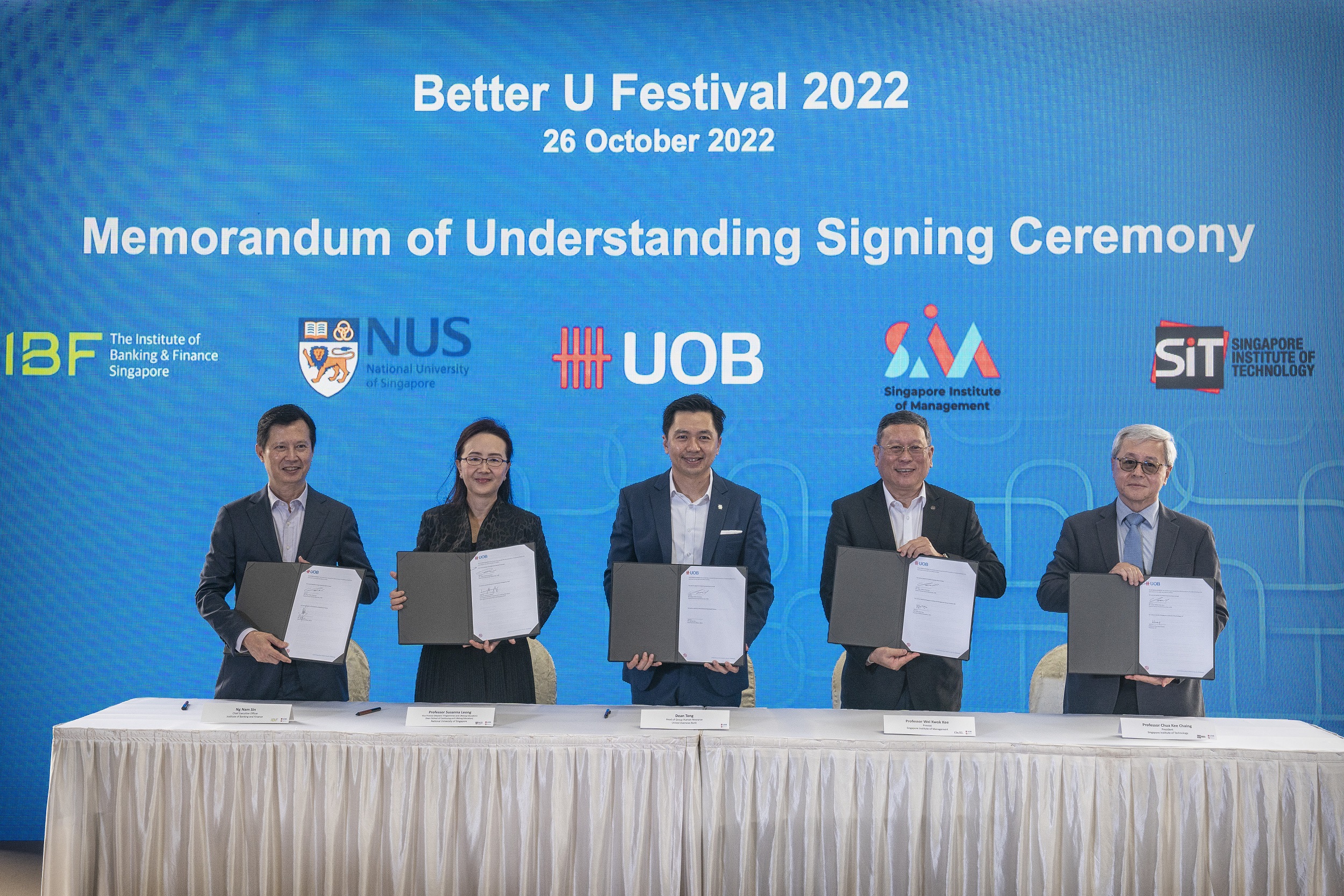 Professor Wei Kwok Kee, Provost, SIM (2nd from right), signed an MOU with Mr Dean Tong, Head, Group Human Resources, UOB (middle), which will see SIM working with UOB to create a corporate university to help further the Bank's people development agenda.
"We are very excited to embark on this very important project with UOB, one of the world's top banks, to create a full-fledged corporate university for their talent development needs. UOB's commitment to people development is in line with our purpose in empowering people and organisations to keep learning so as to thrive in life. With our capabilities and decades-long experience in delivering diverse learning programmes and services, we are confident that we are able to meet UOB's needs in strengthening the competencies of their people and preparing them to be future-ready in an ever-changing business environment," said Mr Seah Chin Siong, President and Chief Executive Officer, SIM.
The Corporate University will be set up at the SIM Namly Campus at 41 Namly Avenue, and is expected to be completed by Q2 2023. More information on the programmes, services and features will be revealed at a later date.
For the next three years, Singapore Institute of Management (SIM) will be collaborating closely with UOB to enhance the latter's talent management and people development through a corporate university.