Lim Soon Gui
After completing his high school studies in Johor, Malaysia, Lim Soon Gui came to Singapore in 2013 to start his diploma in SIM. His passion for information security began when he was taking a computer science degree with the University of Wollongong. Upon his graduation in 2017, Soon Gui landed his first job as an Application Consultant. Now, he is working as an Application Vulnerability Assessment Analyst in a financial institution.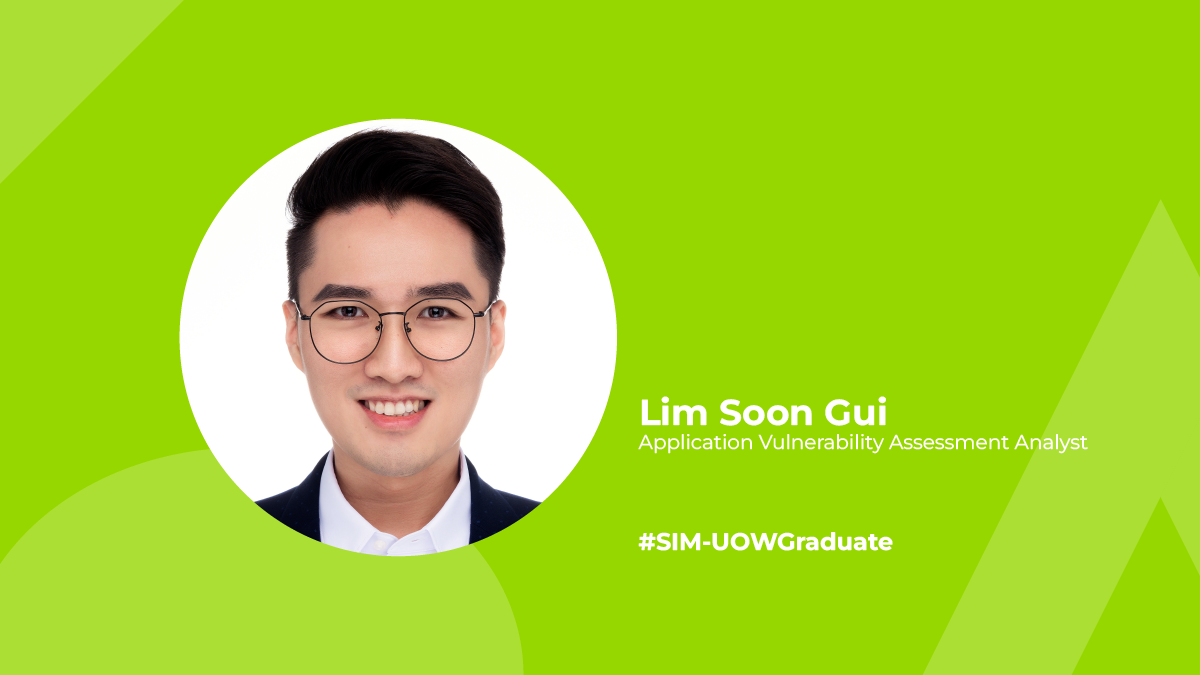 Briefly share with us what you do on a daily basis.
As an information security professional who focuses on application vulnerability assessment, my day-to-day tasks include testing the applications (e.g. web application, mobile application) in security perspective to identify the vulnerabilities before the malicious actors do.
Is what you are doing currently something you envisioned doing back when you were taking your diploma and bachelor's degree in SIM?
To be honest, starting my tertiary education with Diploma in Management Studies, I had never imagined becoming an information security professional alongside others fighting against "bad guys" hiding somewhere behind the computers. Before setting my mind to the realm of information security, I always put my best foot forward to explore different possibilities available to me. When I was pursuing the Bachelor of Computer Science (Digital Systems Security), my passion for it grew day by day and this finally led me onto the path where I am right now.
Can you provide us with 1 to 2 success stories in your current job where you had to overcome a specific challenge?
I think it is too early for me to talk about success in my current stage but I do have some experiences in which I had to overcome a challenge of closing the skill gap in my career journey.
When I graduated from my undergraduate programme and started to look for my first job, I realised that there were a variety of jobs related to information security available in the market but there were some required technical skill sets which were not included in the syllabus of my bachelor's degree. In order to be a capable Information security professional, I was aware of having a more in-depth understanding of software applications would value-add to my career. So, I started to learn the web programming on my own and finally landed a job as a web application developer.
However, that was just the beginning of dealing with skills gap. The longer I work in the industry, the more I realised that there are always gaps for me to close. The same situation happened when I switched from the software development field to my current job. The lesson learned throughout these years is that it is impossible for us to learn everything we need for our careers, but positive attitude and continuous learning will eventually lead us to where we want to be in our careers.
What do you enjoy most about your job?
"Cybersecurity" is a buzzword around the world and there is a reason for that. With the pervasiveness of technology, more and more people have easy access to technical know-how of technologies used in daily life. However, such a phenomenon is a double-edged sword because it has contributed to the increase in cybercrime rate while making people technologically literate. As an adversary of cybercriminals, I enjoy dealing with unknown security issues constantly. Undeniably, the challenges faced have spiced up my working life.
What has been your most memorable experience of being an SIM student?
I will always remember those days gathering with my peers in SIM, be it when we were struggling with assignments and examinations or when we were hanging out together. The idea of "work hard, play hard" was what my peers and I cherished the most. I was very grateful that the notion of "diverse cultures" promoted by SIM gave me a bunch of inclusive friends.
Posted online 20 Jul 2022.
Learn more about the
programmes
offered by
University of Wollongong
at SIM today.