Donning National Colours At The World University Championships 2018
Donning National Colours At The World University Championships 2018
"The International University Sports Federation (FISU) organises sports competitions for university athletes worldwide."
Ether Kum and Rury Narita, Senior Programme Executive, SIM Student Development
The International University Sports Federation (FISU) organises sports competitions for university athletes worldwide. Its aim is to develop future leaders by providing world-class sporting opportunities and excellent educational events for participating athletes. Following the Summer Universiade 2017 in Taiwan, the World University Championships (WUC), which consists of single sports competitions, were held between August and October 2018 in various host countries across the globe.
Twelve SIM students were shortlisted to represent Singapore at WUC 2018 in badminton, floorball, netball, and sports climbing in Malaysia, Poland, Uganda, and Slovakia respectively. Besides athletes, SIM sports coaches were amongst the team officials selected to guide the contingents. It was indeed a moment of pride and joy to see our students and coaches represent the nation in the international sports arena.
Netball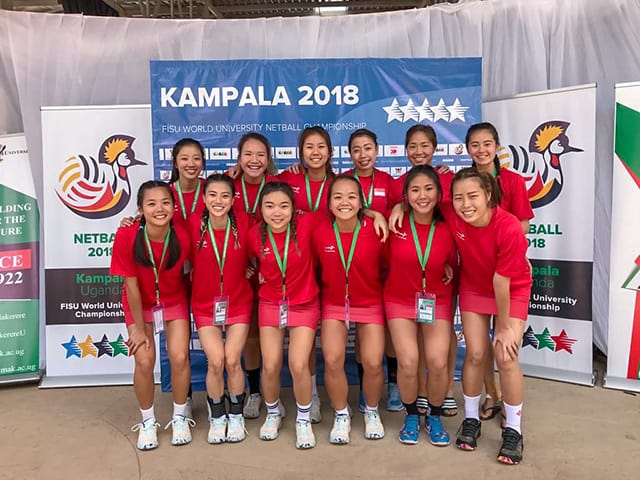 SIM Netball players Callista Koh (first row, second from right) and Brenda Poh (second row, third from right) pictured alongside teammates at the World University Netball Championships 2018.
"It was a great honour representing Singapore at WUNC. I am grateful to have been given this opportunity to experience different styles and high levels of play. This journey was awe-inspiring and eye-opening. I learnt that indeed, a match does not define the championship, and that every player on the team matters! The team drew strength from each other, taking every defeat in our stride, and treasuring the victories. Truly, I have grown to become a more confident athlete in physical strength, skills, and resilience!" – Brenda Poh, SIM- University of London, BSc (Hons) in Banking and Finance student and SIM Netball President 2018
"My WUNC experience was inspiring; the journey shaped me to be a better performing athlete that has grown stronger physically and mentally! Representing the country and playing against world-class athletes all the way in Uganda has taught me grit and to face challenges with courage and resilience! It has inspired me to better myself every day and I am thankful for the opportunity!" – Callista Koh, SIM-University of Birmingham BSc (Hons) International Business student and SIM Netball Member.
Floorball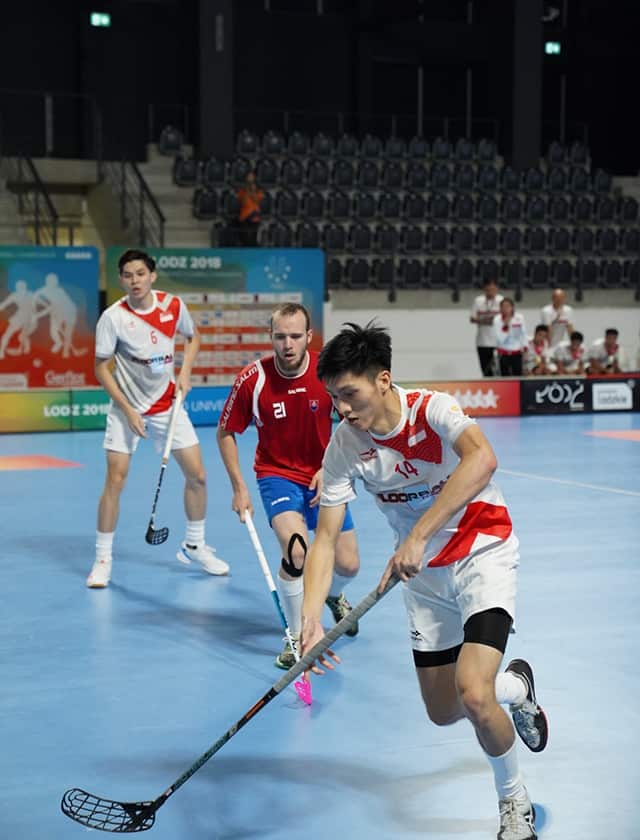 SIM athlete Alvin Tan (jersey #14) pictured in a swift dribble past his Slovak opponent.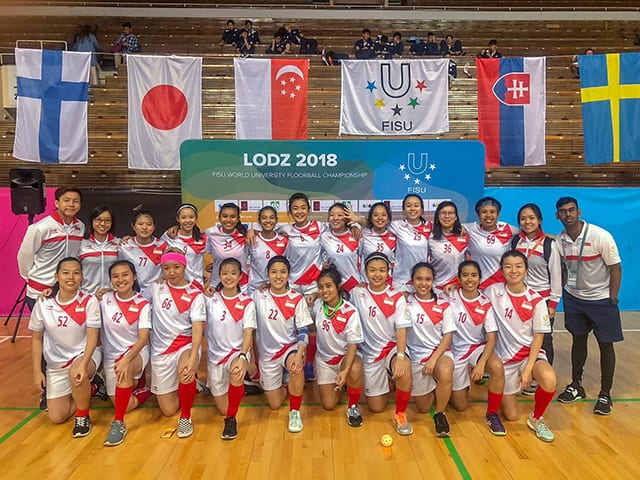 The Singapore University Women's Floorball team's players, coaches, and team managers. Front row: SIM students Michelle Lok (jersey #66), Lavina Devi (jersey #96), Nurul Amirah (jersey #15) and Nurul Filza (jersey #10), Back row: Mindy Lim (jersey #6) and Ong Swee Ling (jersey #29) and SIM Floorball Coach and Assistant Coach of the team Jatin Nair (extreme right).
Seven SIM floorball players were amongst the contingent of forty that represented Singapore against the likes of world floorball powerhouses Czech Republic, Finland, Sweden, and Switzerland. Sharing the arena with world champions afforded the Singapore University floorball team opportunities to better their gameplay and challenge themselves to compete at a higher level. The World University Floorball Championships commands the highest level of competitive play amongst all university tournaments worldwide.
Badminton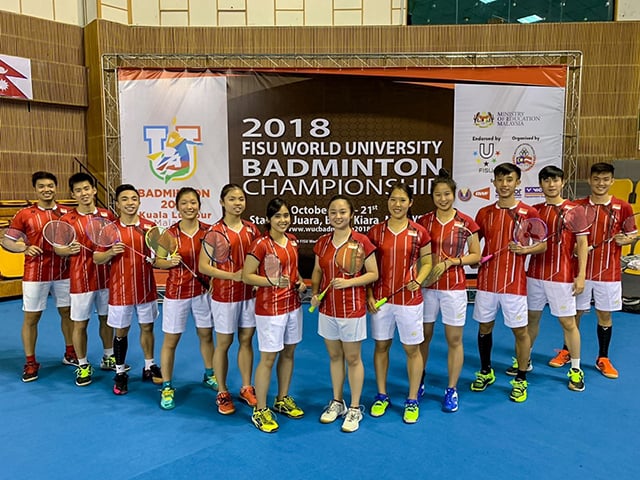 The Singapore University Badminton Team in the national colours at the opening of the World University Badminton Championship. Lucus Wee (first from left) and Chua K-Lynn (seventh from left) pictured alongside competitors turned teammates from NUS, NTU, and SMU.
Many student-athletes vie for opportunities like WUC to better themselves and represent their nation. For Lucas, this opportunity presented itself twice. Having competed at the Summer Universiade 2017 in Chinese Taipei, he was selected again for WUC 2018.
"I was extremely privileged to have represented Singapore at both the recent World University Badminton Championships (WUBC), and Summer Universiade 2017. Such opportunities are rare and it has been an awesome journey and learning experience. WUBC afforded my teammates and I the chance to interact and gain invaluable experience from playing with athletes from around the world. Indeed, we can only return stronger and as better athletes!" – Lucas Wee, SIM-RMIT University Bachelor of Business (Management) student and SIM Badminton President.
Both Lucas and K-Lynn are training for the upcoming ASEAN University Games 2018 in December in Nyapwidaw, Myanmar where they will once again don the national colours.
Sports Climbing
SIM student Ashraf Sapri (pictured below) also did the nation and institution proud by putting up a strong display at the World University Sports Climbing Championships.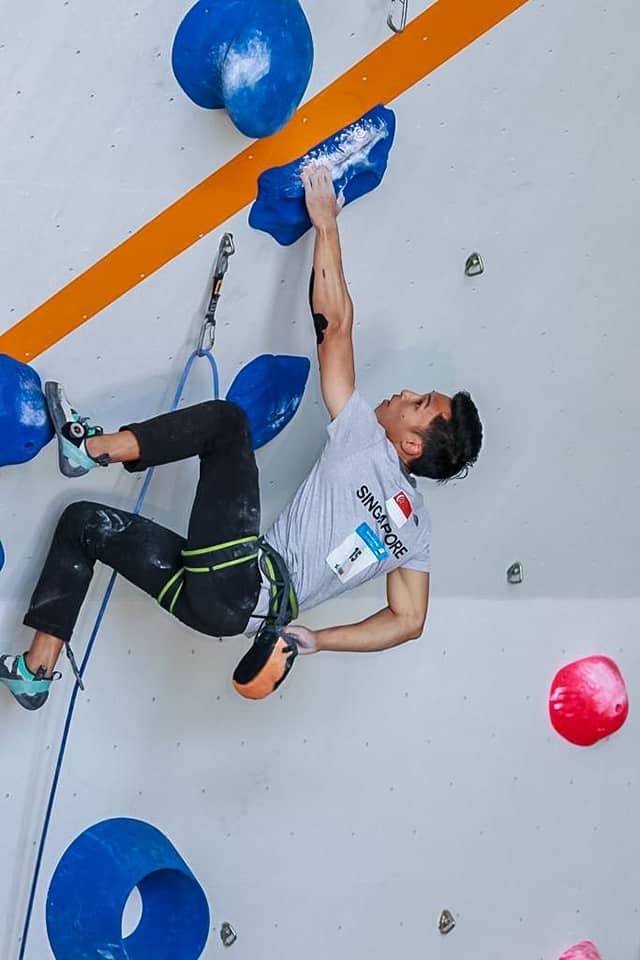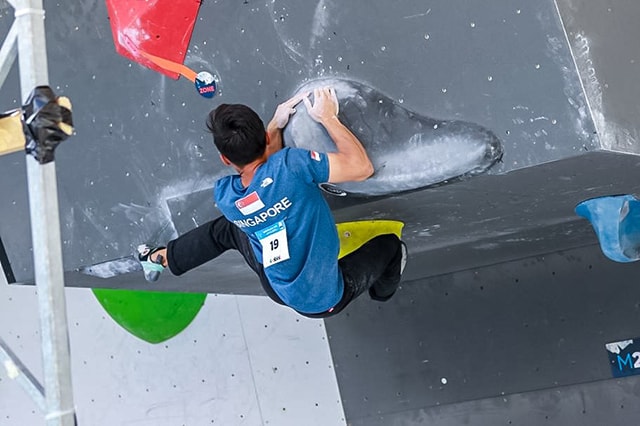 "Going up against some world-class climbers in WUC 2018 was an eye-opening experience. After months of training in all three disciplines: Lead, Boulder and Speed, I managed to secure a top ten finish among other international climbers. This is a stepping-stone for me to continue pushing myself towards my goals and dreams in the near future, and I hope to inspire all aspiring athletes to continue to achieve and actualise their dreams no matter how difficult it gets." – Mohammad Ashraf bin Mohammad Sapri, SIM Diploma in Management Studies, SIM Outdoor Adventure Club (Rock Climbing Team)
Congratulations to our athletes for their efforts and hard work and heartiest wishes to all our athletes who will be participating in the upcoming ASEAN University Games 2018!
Posted online, 21 November 2018